How to

Identify and Measure Fittings
Pipe size is an industry designation, not the actual size. View information about how to measure threaded and unthreaded pipe and pipe fittings.
High-Temperature

Compression Tube Fittings for Food and Beverage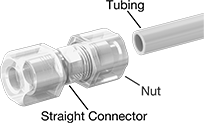 Temperature

Range:




Inch:

-40° to 270° F




Metric:

0° to 240° F

Tubing:

Use with firm or hard

(Durometer

45D-65D)

nylon

plastic,

polyethylene

plastic,

or polypropylene plastic
Specifications

Met:




Inch:

FDA Compliant 21 CFR

177.2510,

NSF/ANSI

51,

NSF/ANSI

61,

USP Class VI


Metric:

FDA Compliant 21 CFR

177.2510,

NSF/ANSI 61
Made of PVDF (also known as Kynar), these fittings have excellent strength and can handle temperatures as high as 240° F or 270° F. All fittings meet NSF/ANSI 61 and are safe to use for drinking water systems. They're also known as flareless fittings.
Assemble fittings with a plastic sleeve without removing their nut. This built-in sleeve—commonly called a ferrule—compresses the tubing as you tighten the nut, creating a strong seal.
For technical drawings and 3-D models, click on a part number.