Angle Grinder Cutoff Wheels for Cutting and Deburring Metal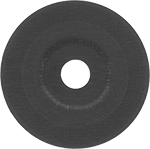 Side View
Switch between cutting and deburring aluminum, iron, stainless steel, and steel without the need to change your wheel. Three layers of fiberglass mesh reinforce these aluminum oxide wheels. They're also known as Type 27, raised-hub, and depressed-center cutoff wheels, and they outperform Type 1 wheels when making flush cuts.
Warning: Use wheels that have a greater rpm rating than the no-load rpm of your tool.
For technical drawings and 3-D models, click on a part number.
Thick.

Arbor
Hole
Size

Max.




Speed,


rpm
Type
Shape
Abrasive
Reinforcement
For
Use
On
Grit
Each

5/64

"

7/8

"
13,300
Type 27
Raised Hub
Aluminum Oxide
Fiberglass Mesh
Aluminum, Iron, Stainless Steel, Steel
60
00000000
00000

5/64

"

7/8

"
12,200
Type 27
Raised Hub
Aluminum Oxide
Fiberglass Mesh
Aluminum, Iron, Stainless Steel, Steel
60
00000000
0000

5/64

"

7/8

"
10,200
Type 27
Raised Hub
Aluminum Oxide
Fiberglass Mesh
Aluminum, Iron, Stainless Steel, Steel
60
00000000
00000