Angle Grinder Cutoff Wheels for Masonry and Concrete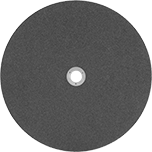 Side View
Make cuts in hard, brittle materials such as firebrick, stone, and concrete. Wheels are made of silicon carbide abrasive that is reinforced with a layer of fiberglass mesh.
Warning: Use wheels that have a greater rpm rating than the no-load rpm of your tool.
For technical drawings and 3-D models, click on a part number.
Thick.

Arbor
Hole Size

Max.




Speed,

rpm
Type
Shape
Abrasive
Reinforcement
Grit
Each

1/16

"

5/8

"
15,280
Type 1
Straight
Silicon Carbide
Fiberglass Mesh
30
0000000
00000

1/16

"

7/8

"
13,580
Type 1
Straight
Silicon Carbide
Fiberglass Mesh
30
0000000
0000

1/16

"

7/8

"
12,225
Type 1
Straight
Silicon Carbide
Fiberglass Mesh
30
0000000
0000