Extra-Long-Life

Straight Grinder Cutoff Wheels for Metal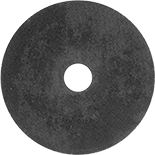 Side View
These high-density ceramic oxide wheels have two layers of fiberglass mesh reinforcement and last up to twice as long as long-life cutoff wheels when cutting aluminum, iron, stainless steel, and steel.
Warning: Use wheels that have a greater rpm rating than the no-load rpm of your tool.
For technical drawings and 3-D models, click on a part number.
Thick.

Arbor
Hole
Size

Max.




Speed,


rpm
Type
Shape
Abrasive
Reinforcement
For
Use
On
Grit
Each
0.035"

1/4

"
25,000
Type 1
Straight
Ceramic Oxide
Fiberglass Mesh
Aluminum, Iron, Stainless Steel, Steel
60
000000000
00000
0.035"

3/8

"
25,000
Type 1
Straight
Ceramic Oxide
Fiberglass Mesh
Aluminum, Iron, Stainless Steel, Steel
60
000000000
0000

1/16

"

1/4

"
25,000
Type 1
Straight
Ceramic Oxide
Fiberglass Mesh
Aluminum, Iron, Stainless Steel, Steel
60
000000000
0000

1/16

"

3/8

"
25,000
Type 1
Straight
Ceramic Oxide
Fiberglass Mesh
Aluminum, Iron, Stainless Steel, Steel
60
000000000
0000
0.035"

1/4

"
19,000
Type 1
Straight
Ceramic Oxide
Fiberglass Mesh
Aluminum, Iron, Stainless Steel, Steel
60
000000000
0000
0.035"

3/8

"
19,000
Type 1
Straight
Ceramic Oxide
Fiberglass Mesh
Aluminum, Iron, Stainless Steel, Steel
60
000000000
0000
0.035"

5/8

"
19,000
Type 1
Straight
Ceramic Oxide
Fiberglass Mesh
Aluminum, Iron, Stainless Steel, Steel
60
000000000
0000

1/16

"

1/4

"
19,000
Type 1
Straight
Ceramic Oxide
Fiberglass Mesh
Aluminum, Iron, Stainless Steel, Steel
60
000000000
0000

1/16

"

3/8

"
19,000
Type 1
Straight
Ceramic Oxide
Fiberglass Mesh
Aluminum, Iron, Stainless Steel, Steel
60
000000000
0000

1/16

"

5/8

"
19,000
Type 1
Straight
Ceramic Oxide
Fiberglass Mesh
Aluminum, Iron, Stainless Steel, Steel
60
000000000
0000
0.045"

7/8

"
18,000
Type 1
Straight
Ceramic Alumina/Ceramic Oxide
Fiberglass Mesh
Aluminum, Iron, Stainless Steel, Steel
60
000000000
0000
0.045"

3/8

"
15,000
Type 1
Straight
Ceramic Alumina/Ceramic Oxide
Fiberglass Mesh
Aluminum, Iron, Stainless Steel, Steel
60
000000000
0000
0.045"

5/8

"
15,000
Type 1
Straight
Ceramic Alumina/Ceramic Oxide
Fiberglass Mesh
Aluminum, Iron, Stainless Steel, Steel
60
000000000
0000
0.045"

7/8

"
15,000
Type 1
Straight
Ceramic Alumina/Ceramic Oxide
Fiberglass Mesh
Aluminum, Iron, Stainless Steel, Steel
60
000000000
0000
0.045"

3/8

"
14,200
Type 1
Straight
Ceramic Alumina/Ceramic Oxide
Fiberglass Mesh
Aluminum, Iron, Stainless Steel, Steel
60
000000000
0000
0.045"

5/8

"
14,200
Type 1
Straight
Ceramic Alumina/Ceramic Oxide
Fiberglass Mesh
Aluminum, Iron, Stainless Steel, Steel
60
000000000
0000
0.045"

7/8

"
14,200
Type 1
Straight
Ceramic Alumina/Ceramic Oxide
Fiberglass Mesh
Aluminum, Iron, Stainless Steel, Steel
60
000000000
0000