Smooth-Cut

Bench Grinder Cutoff Wheels for Metal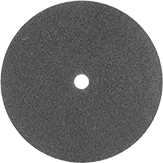 Side View
An extra-fine layer of fiberglass mesh reinforcement allows these wheels to make smoother cuts than standard bench-grinder cutoff wheels when cutting metal such as aluminum, iron, stainless steel, and steel.
Warning: Use wheels that have a greater rpm rating than the no-load rpm of your tool.
For technical drawings and 3-D models, click on a part number.
Thick.

Arbor
Hole
Size

Max.




Speed,


rpm
Type
Shape
Abrasive
Reinforcement
For
Use
On
Grit
Each

1/16

"
1

1/4

"
9,040
Type 1
Straight
Aluminum Oxide
Fiberglass Mesh
Aluminum, Iron, Stainless Steel, Steel
46
0000000
00000

1/16

"
1

1/4

"
9,040
Type 1
Straight
Aluminum Oxide
Fiberglass Mesh
Aluminum, Iron, Stainless Steel, Steel
60
0000000
0000

1/16

"

1/2

"
9,040
Type 1
Straight
Aluminum Oxide
Fiberglass Mesh
Aluminum, Iron, Stainless Steel, Steel
46
0000000
0000

1/16

"

1/2

"
9,040
Type 1
Straight
Aluminum Oxide
Fiberglass Mesh
Aluminum, Iron, Stainless Steel, Steel
60
0000000
0000

1/16

"
1

1/4

"
7,745
Type 1
Straight
Aluminum Oxide
Fiberglass Mesh
Aluminum, Iron, Stainless Steel, Steel
46
0000000
00000

1/16

"
1

1/4

"
7,745
Type 1
Straight
Aluminum Oxide
Fiberglass Mesh
Aluminum, Iron, Stainless Steel, Steel
60
0000000
00000

1/16

"

1/2

"
7,745
Type 1
Straight
Aluminum Oxide
Fiberglass Mesh
Aluminum, Iron, Stainless Steel, Steel
46
0000000
00000

1/16

"

1/2

"
7,745
Type 1
Straight
Aluminum Oxide
Fiberglass Mesh
Aluminum, Iron, Stainless Steel, Steel
60
0000000
00000

1/16

"
1

1/4

"
6,780
Type 1
Straight
Aluminum Oxide
Fiberglass Mesh
Aluminum, Iron, Stainless Steel, Steel
46
0000000
00000

1/16

"
1

1/4

"
6,780
Type 1
Straight
Aluminum Oxide
Fiberglass Mesh
Aluminum, Iron, Stainless Steel, Steel
60
0000000
00000

1/16

"

1/2

"
6,780
Type 1
Straight
Aluminum Oxide
Fiberglass Mesh
Aluminum, Iron, Stainless Steel, Steel
46
0000000
00000

1/16

"

1/2

"
6,780
Type 1
Straight
Aluminum Oxide
Fiberglass Mesh
Aluminum, Iron, Stainless Steel, Steel
60
0000000
00000