Grout Floats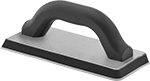 Smooth and spread grout between tiles.
Lg.

Wd.

Thick.

Material
Backing
Material

Lg.

Material
Each
9"
4"

5/8

"
Rubber
Aluminum
7

1/2

"
Plastic
0000000
000000
Concrete Floats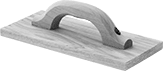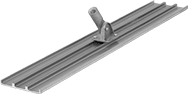 B
Use floats after edging and grooving to smooth the surface and allow trapped air and water to escape.
Style B floats accept a handle (sold separately). The handle is male on one end and female on the other, so multiple handles can be connected for longer reach.