Breakaway Tapered Shims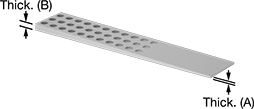 Dimpled Composite
Lined Composite

Smooth Wood
Easily snap off any excess to get the length you need. Use these shims to align cabinets, doors, and windows, or for other rough leveling.
Dimpled shims have breaks every ½ inch. They resist splitting when nailed or screwed, so they're best to use when hammering is needed.
Lined shims are marked every 1/8 inch for clean, precise breaks.
For technical drawings and 3-D models, click on a part number.
(A)

(B)

Lg.

Wd.

Score
Interval
Color

Temp.

Range

Pkg.




Qty.

Pkg.

Dimpled Composite

1/16

"

1/4

"
7

1/2

"
1

1/2

"

1/2

"
Beige
Not Rated
12
000000
00000

Lined Composite

1/16

"

1/4

"
7

1/2

"
1

1/2

"

1/8

"
Beige
Not Rated
12
0000000
0000

Smooth Wood

1/16

"

3/16

"
3

1/2

"
1"
__
__
Not Rated
50
000000
0000

1/16

"

1/4

"
6"
1

3/8

"
__
__
Not Rated
9
000000
0000

1/16

"

1/4

"
8"
1

3/8

"
__
__
Not Rated
12
0000000
0000

1/16

"

1/4

"
12"
1

3/8

"
__
__
Not Rated
42
0000000
0000