Plastic Washers for Rigid Insulation

Polypropylene Plastic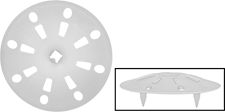 Polypropylene Plastic with Prongs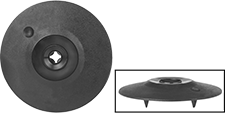 Polypropylene Plastic with Prongs and Insulating Seal
Plastic washers resist moisture, chemicals, and friction and are good electrical insulators. These have a large surface that distributes holding pressure to reduce the likelihood of crushing insulation.
Washers with prongs enable pre-spotting into insulation for easy on-the-wall fastener assembly.
Washers with an insulating seal have a stiff center with a flexible perimeter that creates a barrier against air and moisture penetration when fastened to rigid insulation.
For technical drawings and 3-D models, click on a part number.
For
Screw
Size

ID
OD

Thick.

Max.




Temperature,




°F

Specifications
Met
Color
Features

Pkg.




Qty.

Pkg.

Polypropylene Plastic

No. 12, No. 14, No. 15
0.190"
3.000"
0.260"
150°
FM Approved

White
__
25
000000000
000000
No. 10

0.190"
1.750"
0.180"
150°
__
White
Prongs
50
000000000
0000
No. 10

0.190"
2.000"
0.220"
150°
__
Black
Insulating Seal, Prongs
25
000000000
0000