Automatic Shoe and Boot Washing Stations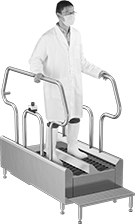 With Bottom Brushes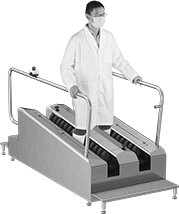 With Bottom and Side Brushes
Clean your shoes and boots before entering sanitary environments, such as production areas in food-processing plants. As you walk through these stations in either direction, sensors activate rotating brushes and spray water and cleaning chemicals. Use whatever cleaning chemicals and detergents you want, and adjust their concentration using the flow regulator. Removing the brushes for cleaning doesn't require special tools. Made of 304 stainless steel, these stations won't rust from frequent contact with chemicals and water. They have handrails and diamond-plate step treads to help you keep your balance. If there's a fall or other emergency, press the emergency stop button.
Stations with bottom brushes only clean the soles of footwear.
Stations with bottom and side brushes clean the soles, sides, and tops of footwear. They're good for industries where tall boots are common.
For technical drawings and 3-D models, click on a part number.
Height
Width
Length
Number
of
Brushes
Pipe
Size

Thread
Type
Water


Pressure,


psi
Material
Voltage

Electrical
Phase
Wire
Connection
Type
Each

With Bottom Brushes

60"
30"
71"
2
1/2

NPT

43-87
304 Stainless Steel
480V AC
Three
Wire Leads
0000000
0000000000

With Bottom and Side Brushes

47"
40"
103"
6
3/4

NPT

43-87
304 Stainless Steel
480V AC
Three
Wire Leads
0000000
000000000
Shoe and Boot Brushes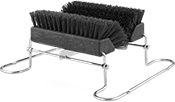 Flipped Down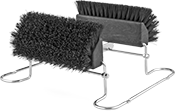 Flipped Up
Remove tough material from shoes and boots. This combination brush/scraper has two brushes with stiff bristles that form a V-shaped cleaning surface. For stubborn material, flip up the brushes and use the steel scraper bar underneath.