Sanitary Lights for Flow Sights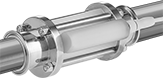 Power Cord Not Included

Illuminate inline flow sights to inspect the color, clarity, and flow of liquids in food and beverage, brewery, chemical, and pharmaceutical processing lines. A hands-free alternative to flashlights and machine lights, these lights slide in between the sight glass and the external bars on your flow sights. Made of flexible silicone, they create a watertight seal against the sight glass, minimizing the space where bacteria can grow. The lights are also totally enclosed, so they're protected from high-temperature washdowns and harsh cleaners. USP Class VI certified, these lights meet the highest safety standards of the United States Pharmacopoeia.
With built-in LEDs, these lights last longer, are more efficient, and generate less heat than other light technologies. A neutral light appearance lets you see true colors, which improves the visibility of even dark liquids in dimly lit areas. These lights will not yellow, so the quality of the light will not change. You can also use them to backlight clear containers. They require a power cord with an M12 socket that withstands washdowns (not included).
For Flow Sight
Pipe
Size

Lg.

Wd.

Ht.

Brightness,


lumens
Light
Appearance
Wattage

Lg.

Material
Color
Voltage

Electrical
Connection
Type
Specifications
Met
Each
1, 1

1/2

, 2, 2

1/2

3

3/4

"
2

5/8

"
1

1/4

"
100
Neutral (3,600K)
2.2W
3

1/4

"
Silicone Rubber
White
24V DC
4-Pole Micro M12 Plug
USP Class VI
0000000
0000000
Miniature Colored Light Bulb Filters

Slip these over miniature light bulbs to change the bulb color on small devices such as control panels and indicating lights.
Max.




Dia.

Shape


No.

Lg.

OD
Material

Max.




Temp.,




°F

Choose-a-Color

Pkg.




Qty.

Pkg.

1/8

"
T1

5/16

"

3/16

"
Silicone Rubber
400°
10
00000000
000000

1/4

"
T1 1/2, T1 3/4, T2

5/16

"

1/4

"
Silicone Rubber
400°
10
00000000
00000

7/16

"
T2 1/4, T2 1/2, T2 3/4, T3, T3 1/4, T3 1/2

11/16

"

7/16

"
Silicone Rubber
400°
10
00000000
00000