About Actuated
On/Off

Valves
Noncontact Solenoid
On/Off

Valves for Chemicals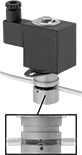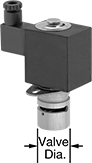 For Use

With:

Water,

Air,

Acetone,

Deionized

Water,

Diesel

Fuel,

Ethylene

Glycol,

Fuel

Oil,

Gasoline,

Hydrochloric

Acid,

Isopropyl

Alcohol,

Kerosene,

Methanol,

Methyl Ethyl

Ketone,

Mineral

Spirits,

Sodium

Hypochlorite,

Sulfuric

Acid,

Phosphoric

Acid,

Sodium Hydroxide
Specifications

Met:

CE Marked
For applications sensitive to contamination, these valves stop flow without contacting the process media by pressing down on the outside of tubing. They operate on electricity to automatically start and stop flow.
These valves are normally closed unless actuated. They don't require a minimum pressure drop between the inlet and outlet for operation. The actuator is directly mounted to the valve body to minimize movement and reduce wear.
For technical drawings and 3-D models, click on a part number.
OD
ID

Max.


Tube
Durometer

Max.


Pressure
Pressure
Drop

Temp.




Range,




°F

Valve


Dia.

O'all




Ht.

No.

of
Mounting
Slots
Mounting
Slot


Lg.

Fasteners
Included
Environmental
Rating
Each

Anodized Aluminum Body with DIN Connection

1/8

"

1/16

"
50A
10 psi @ 140° F
Zero Pressure Drop
15° to 140°

5/8

"
2

1/8

"
2

1/8

"
No
IP40

00000000
0000000

3/16

"

1/8

"
50A
10 psi @ 140° F
Zero Pressure Drop
15° to 140°
1"
3

3/8

"
2

1/8

"
No
IP65

00000000
000000

3/8

"

1/4

"
50A
10 psi @ 140° F
Zero Pressure Drop
15° to 140°
1

3/16

"
4"
2

1/8

"
No
IP65

00000000
000000

1/8

"

1/16

"
50A
10 psi @ 140° F
Zero Pressure Drop
15° to 140°

5/8

"
2

1/8

"
2

1/8

"
No
IP40

00000000
000000

3/16

"

1/8

"
50A
10 psi @ 140° F
Zero Pressure Drop
15° to 140°
1"
3

3/8

"
2

1/8

"
No
IP65

00000000
000000

3/8

"

1/4

"
50A
10 psi @ 140° F
Zero Pressure Drop
15° to 140°
1

3/16

"
4"
2

1/8

"
No
IP65

00000000
000000