Super-Absorbent

Granular Sorbents

These sorbents quickly absorb more liquids than other granular sorbents. Pour them over chemical, oil, and water spills and then sweep them away for easy cleanups. You can use them on uneven surfaces and in cracks and crevices where pad or roll sorbents wouldn't fit, such as on roads and parking lots.
Made of recycled paper fibers, paper sorbents are an economical alternative to corn-cob and coir sorbents. They should not be used with aggressive liquids, such as hydrochloric acid.
Made of coconut fibers, coir sorbents are twice as absorbent as corn-cob sorbents. They're biodegradable and can be used on aggressive liquids, such as formaldehyde and battery acid. They're also lightweight, which makes them easy to move around your worksite.
Sorbents that cannot be sold to Canada do not meet import regulations.
Harsh Chemical Neutralizing Granular Sorbents

Sop up hydrofluoric acid, solvent, and formaldehyde spills with these granular sorbents. They safely absorb and neutralize chemical spills in a single step.
Solvent sorbents lock in cleaners, thinners, and fuels such as toluene, mineral spirits, acetone, and methyl ethyl ketone (MEK). Unlike other sorbents, they capture harmful vapors and elevate the flash point of the spill to 140° F to reduce flammability.
For Use
With
Net

Weight,




lbs.

Type
Spill


Cap.,

gal.

Material
Color
Each
Solvents
1
Jar
0.3
Charcoal
Black
0000000
000000
Harsh Chemical
Spill-Control

Kits
Be prepared for a variety of chemical spills at your worksite.
Kits for solvents include a granular sorbent for soaking up fuel, thinners, and other spills, as well as a liquid microbial cleaner for treating the solvent. The liquid cleaner reduces harmful and flammable vapors and reduces flammability by raising the flash point of the absorbed spill to 140° F.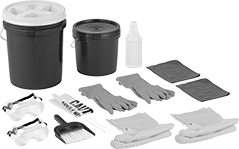 Spill


Cap.,

gal.

Size,




gal.

Type
Includes
Each
2
5
Plastic Pail
One 32-oz. Bottle of Liquid Solvent Cleaner
One 10-lb. Pail of Granular Solvent Neutralizing Sorbent
Two Pairs of Latex Gloves
Two Pairs of Boot Covers
Two Pairs of Goggles
Two Aprons
One Miniature Broom and Dust Pan
One Disposal Bag
0000000
0000000