MXL Series

Lightweight Timing Belt Pulleys
Made from polycarbonate, these pulleys are useful in applications with weight constraints. All are MXL series (miniature extra light) and have trapezoidal teeth. The teeth match up with the grooves along the inside diameter of a timing belt in order to move components forward or backward. Select a pulley with a maximum belt width that's the same or larger than your timing belt width.
For technical drawings and 3-D models, click on a part number.

With Hub and One Flange
(10-16 Teeth)

With Hub and Two Flanges
(18 Teeth or More)

With Hub and One
Flange (18 Teeth or More)

With One Flange

With Hub and Two
Flanges (10–16 Teeth)

With Two Flanges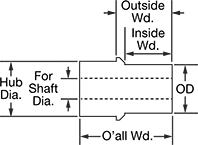 With Hub and One
Flange (10–16 Teeth)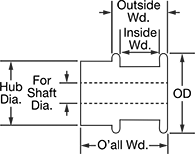 With Hub and Two Flanges
(18 Teeth or More)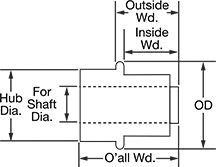 With Hub and One
Flange (18 Teeth or More)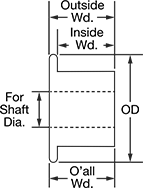 With One Flange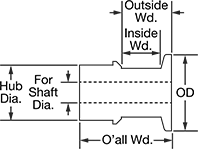 With Hub and Two
Flanges (10–16 Teeth)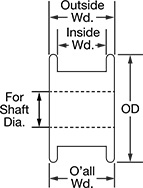 With Two Flanges
OD
Number
of
Teeth
Pitch
For
Shaft


Dia.

Bore
Type
Inside


Wd.

Outside


Wd.

Overall


Wd.

Pitch


Dia.

Fabrication
Material
Hub


Dia.

Each
0.42"
10
0.080"

3/32

"
Finished
0.25"
0.438"
0.688"
0.255"
Molded
Polycarbonate

0.438"
0000000
00000
0.47"
12
0.080"

3/32

"
Finished
0.25"
0.438"
0.688"
0.306"
Molded
Polycarbonate

0.438"
0000000
0000
0.53"
14
0.080"

1/8

"
Finished
0.25"
0.438"
0.688"
0.357"
Molded
Polycarbonate

0.438"
0000000
0000
0.55"
15
0.080"

1/8

"
Finished
0.25"
0.438"
0.688"
0.382"
Molded
Polycarbonate

0.438"
0000000
0000
0.58"
16
0.080"

1/8

"
Finished
0.25"
0.438"
0.688"
0.407"
Molded
Polycarbonate

0.438"
0000000
0000
11mm
10
2.030mm
3mm
Finished
9.5mm
15.9mm
17.5mm
6.5mm
Molded
Polycarbonate

11mm
0000000
0000
13mm
14
2.030mm
4mm
Finished
9.5mm
15.9mm
17.5mm
9.1mm
Molded
Polycarbonate

11mm
0000000
0000
16mm
18
2.030mm
6mm
Finished
8mm
11.2mm
17.5mm
11.6mm
Molded
Polycarbonate

13mm
0000000
0000
16mm
18
2.030mm
8mm
Finished
8mm
9.6mm
9.6mm
11.6mm
Molded
Polycarbonate

__
0000000
0000
17mm
20
2.030mm
8mm
Finished
8mm
9.6mm
9.6mm
12.9mm
Molded
Polycarbonate

__
0000000
00000
24mm
30
2.030mm
8mm
Finished
8mm
11.2mm
17.5mm
19.4mm
Molded
Polycarbonate

17.5mm
0000000
00000
25mm
32
2.030mm
8mm
Finished
8mm
11.2mm
11.2mm
20.7mm
Molded
Polycarbonate

__
0000000
00000
69mm
100
2.030mm
8mm
Finished
8mm
11.2mm
17.5mm
64.7mm
Molded
Polycarbonate

17.5mm
0000000
00000
88mm
130
2.030mm
8mm
Finished
8mm
11.2mm
17.5mm
84.1mm
Molded
Polycarbonate

17.5mm
0000000
00000
0.63"
18
0.080"

3/16

"
Finished
0.28"
0.438"
0.688"
0.458"
Molded
Polycarbonate

0.5"
0000000
0000
0.68"
20
0.080"

3/16

"
Finished
0.28"
0.438"
0.688"
0.509"
Molded
Polycarbonate

0.5"
0000000
0000
0.7"
21
0.080"

3/16

"
Finished
0.28"
0.438"
0.688"
0.535"
Molded
Polycarbonate

0.5"
0000000
0000
0.73"
22
0.080"

3/16

"
Finished
0.28"
0.438"
0.688"
0.56"
Molded
Polycarbonate

0.5"
000000
0000
0.78"
24
0.080"

3/16

"
Finished
0.28"
0.438"
0.688"
0.611"
Molded
Polycarbonate

0.5"
0000000
0000
0.88"
28
0.080"

1/4

"
Finished
0.28"
0.438"
0.688"
0.713"
Molded
Polycarbonate

0.688"
0000000
0000
0.93"
30
0.080"

1/4

"
Finished
0.28"
0.438"
0.688"
0.764"
Molded
Polycarbonate

0.688"
0000000
0000
1.09"
36
0.080"

1/4

"
Finished
0.28"
0.438"
0.688"
0.917"
Molded
Polycarbonate

0.688"
0000000
0000
1.19"
40
0.080"

1/4

"
Finished
0.28"
0.438"
0.688"
1.019"
Molded
Polycarbonate

0.688"
0000000
0000
1.24"
42
0.080"

1/4

"
Finished
0.28"
0.438"
0.688"
1.07"
Molded
Polycarbonate

0.688"
0000000
0000
1.7"
60
0.080"

1/4

"
Finished
0.28"
0.438"
0.688"
1.53"
Molded
Polycarbonate

0.688"
0000000
0000
11mm
10
2.030mm
3mm
Finished
9.5mm
15.9mm
17.5mm
6.5mm
Molded
Polycarbonate

11mm
0000000
00000
13mm
14
2.030mm
4mm
Finished
9.5mm
15.9mm
17.5mm
9.1mm
Molded
Polycarbonate

11mm
0000000
00000
14mm
15
2.030mm
4mm
Finished
9.5mm
15.9mm
17.5mm
9.7mm
Molded
Polycarbonate

11mm
0000000
00000
15mm
16
2.030mm
4mm
Finished
9.5mm
15.9mm
17.5mm
10.3mm
Molded
Polycarbonate

11mm
0000000
00000
16mm
18
2.030mm
6mm
Finished
8mm
11.2mm
17.5mm
11.6mm
Molded
Polycarbonate

13mm
0000000
00000
16mm
18
2.030mm
8mm
Finished
8mm
11.2mm
11.2mm
11.6mm
Molded
Polycarbonate

__
0000000
00000
17mm
20
2.030mm
8mm
Finished
8mm
11.2mm
11.2mm
12.9mm
Molded
Polycarbonate

__
0000000
00000
21mm
26
2.030mm
8mm
Finished
8mm
11.2mm
17.5mm
16.8mm
Molded
Polycarbonate

17.5mm
0000000
00000
24mm
30
2.030mm
8mm
Finished
8mm
11.2mm
17.5mm
19.4mm
Molded
Polycarbonate

17.5mm
0000000
00000
28mm
36
2.030mm
8mm
Finished
8mm
11.2mm
11.2mm
23.3mm
Molded
Polycarbonate

__
0000000
00000
28mm
36
2.030mm
8mm
Finished
8mm
11.2mm
17.5mm
23.3mm
Molded
Polycarbonate

17.5mm
0000000
00000
30mm
40
2.030mm
8mm
Finished
8mm
11.2mm
11.2mm
25.9mm
Molded
Polycarbonate

__
0000000
00000
30mm
40
2.030mm
8mm
Finished
8mm
11.2mm
17.5mm
25.9mm
Molded
Polycarbonate

17.5mm
0000000
00000
43mm
60
2.030mm
8mm
Finished
8mm
11.2mm
17.5mm
38.8mm
Molded
Polycarbonate

17.5mm
0000000
00000
46mm
65
2.030mm
8mm
Finished
8mm
11.2mm
17.5mm
42mm
Molded
Polycarbonate

17.5mm
0000000
00000
63mm
90
2.030mm
8mm
Finished
8mm
11.2mm
17.5mm
58.2mm
Molded
Polycarbonate

17.5mm
0000000
00000
82mm
120
2.030mm
8mm
Finished
8mm
11.2mm
17.5mm
77.6mm
Molded
Polycarbonate

17.5mm
0000000
00000
88mm
130
2.030mm
8mm
Finished
8mm
11.2mm
17.5mm
84.1mm
Molded
Polycarbonate

17.5mm
0000000
00000