Metal Bevel Gears

Gear and Pinion Sold Separately

Gear
A type of miter gear where one gear (sometimes called a pinion) is smaller than the other, bevel gears provide right-angle speed reduction at speed ratios ranging from 2:1 to 5:1. All are carbon steel for strength; they're compatible with plastic bevel gears. Teeth are not hardened so you can harden them to fit your application. Hardening a gear's teeth increases its wear resistance.
A complete set consists of a gear and pinion (sold separately). For a gear and pinion to mesh correctly, they must have the same pressure angle, pitch/module, and face width. Speed ratio is the ratio by which shaft speed is reduced when transferring motion from pinion to gear. To increase shaft speed, transfer motion from gear to pinion. Changing shaft speed also changes torque: as speed decreases, torque increases.
For technical drawings and 3-D models, click on a part number.


Face


Wd.

Gear
Pitch

Pressure
Angle
Speed
Ratio
Number
of
Teeth
Gear
Pitch


Dia.

OD
Overall


Wd.

For
Shaft


Dia.

Mounting
Distance


(A)

Dia.

Wd.

Material
Each

Round Bore

0.78"
10

20°
3:1
60
6"
6.04"
2.04"
1"
2.75"
3"
1.375"
1144 Carbon Steel
0000000
0000000

Gear and Pinion Sold Separately

Pinion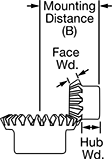 Face


Wd.

Gear
Pitch

Pressure
Angle
Speed
Ratio
Number
of
Teeth
Gear
Pitch


Dia.

OD
Overall


Wd.

For
Shaft


Dia.

Mounting
Distance


(B)

Dia.

Wd.

Material
Each

Round Bore

0.78"
10

20°
3:1
20
2"
2.27"
2.161"

7/8

"
4.375"
1.75"
1.333"
1144 Carbon Steel
0000000
0000000