Pocket-Sized

Pulley Aligning Lasers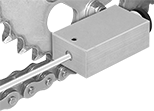 Slip this laser into your pocket so it's on hand to align belts, pulleys, chain, and sprockets. Economical and simple to use, just press the tool against the side of your pulley or sprocket and project the laser along your belt or chain to the aluminum target (included) to see any misalignment. It has a machined aluminum surface that is adjusted parallel to the contact surface for precise alignment.
Style B lasers have a threaded tip, so they're compatible with converters.
Optional Converters for Style B

Converters
Component
Line Size
Dotted
Line Size
Each
Dot-to-Line Converter
16" @ 1 ft.
__
000000000
000000
Dot-to-Line Converter
28" @ 1 ft.
__
000000000
00000
Dot-to-Line Converter
6" @ 1 ft.
__
000000000
00000
Dot-to-Line Converter
8" @ 1 ft.
__
000000000
00000
Dot-to-Dotted Line Converter
__
2" @ 1 ft.
000000000
000000
90° Beam Splitter
__
__
000000000
000000