Quick-Disconnect

(QD)

Bushings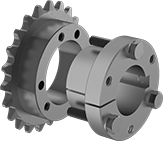 Clamp On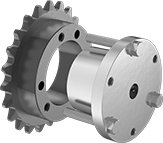 Machinable

The screw connections on these bushings easily mate to compatible quick-disconnect sprockets and pulleys. Bushings fit quick-disconnect (QD) sprockets and pulleys of the same bushing style. As you tighten the included screws, the bushing grips the shaft and pulls it into the sprocket or pulley.
304 stainless steel bushings resist corrosion from washdowns and humidity, so they're common in food-processing plants and other frequently-cleaned areas. You can machine the center of these bushings to fit the exact dimensions of your shaft.
For technical drawings and 3-D models, click on a part number.
For
Shaft


Dia.

For
Maximum
Shaft

Dia.

Overall


Wd.

Wd.

Dp.

Fastener
Tightening


Torque,

in.-lbs.

Material
Includes
Each

Clamp On

35mm
__
76mm
10mm
3.3mm
720
Cast Iron
Clamping Screws
0000000
0000000
65mm
__
76mm
18mm
4.4mm
720
Cast Iron
Clamping Screws
0000000
000000
75mm
__
76mm
20mm
4.9mm
720
Cast Iron
Clamping Screws
0000000
000000

JA Style Bushing

1/2

"
__
1"

1/8

"

1/16

"
60
Steel
Clamping Screws
00000000
00000

9/16

"
__
1"

1/8

"

1/16

"
60
Steel
Clamping Screws
00000000
00000

5/8

"
__
1"

3/16

"

3/32

"
60
Steel
Clamping Screws
00000000
00000

3/4

"
__
1"

3/16

"

3/32

"
60
Steel
Clamping Screws
00000000
00000

13/16

"
__
1"

3/16

"

3/32

"
60
Steel
Clamping Screws
00000000
00000

7/8

"
__
1"

3/16

"

3/32

"
60
Steel
Clamping Screws
00000000
00000

15/16

"
__
1"

1/4

"

1/8

"
60
Steel
Clamping Screws
00000000
00000
1"
__
1"

1/4

"

1/8

"
60
Steel
Clamping Screws
00000000
00000
1

1/16

"
__
1"

1/4

"

1/16

"
60
Steel
Clamping Screws, Machine Key
00000000
00000
1

1/8

"
__
1"

1/4

"

1/16

"
60
Steel
Clamping Screws, Machine Key
00000000
00000
1

3/16

"
__
1"

1/4

"

1/16

"
60
Steel
Clamping Screws, Machine Key
00000000
00000
1

1/4

"
__
1"
__
__
60
Steel
Clamping Screws
00000000
00000

SD Style Bushing

1/2

"
__
2

3/32

"

1/8

"

1/16

"
108
Steel
Clamping Screws
00000000
00000

5/8

"
__
2

3/32

"

3/16

"

3/32

"
108
Steel
Clamping Screws
00000000
00000

3/4

"
__
2

3/32

"

3/16

"

3/32

"
108
Steel
Clamping Screws
00000000
00000

7/8

"
__
2

3/32

"

3/16

"

3/32

"
108
Steel
Clamping Screws
00000000
00000

15/16

"
__
2

3/32

"

1/4

"

1/8

"
108
Steel
Clamping Screws
00000000
00000
1"
__
2

3/32

"

1/4

"

1/8

"
108
Steel
Clamping Screws
00000000
00000
1

1/16

"
__
2

3/32

"

1/4

"

1/8

"
108
Steel
Clamping Screws
00000000
00000
1

1/8

"
__
2

3/32

"

1/4

"

1/8

"
108
Steel
Clamping Screws
00000000
00000
1

3/16

"
__
2

3/32

"

1/4

"

1/8

"
108
Steel
Clamping Screws
00000000
00000
1

1/4

"
__
2

3/32

"

1/4

"

1/8

"
108
Steel
Clamping Screws
00000000
00000
1

5/16

"
__
2

3/32

"

5/16

"

5/32

"
108
Steel
Clamping Screws
00000000
00000
1

3/8

"
__
2

3/32

"

5/16

"

5/32

"
108
Steel
Clamping Screws
00000000
00000
1

7/16

"
__
2

3/32

"

3/8

"

3/16

"
108
Steel
Clamping Screws
00000000
00000
1

1/2

"
__
2

3/32

"

3/8

"

3/16

"
108
Steel
Clamping Screws
00000000
00000
1

5/8

"
__
2

3/32

"

3/8

"

3/16

"
108
Steel
Clamping Screws
00000000
00000
1

11/16

"
__
2

3/32

"

3/8

"

3/16

"
108
Steel
Clamping Screws
00000000
00000
1

3/4

"
__
2

3/32

"

3/8

"

1/8

"
108
Cast Iron
Clamping Screws, Machine Key
00000000
00000
1

7/8

"
__
2

3/32

"

1/2

"

1/16

"
108
Cast Iron
Clamping Screws, Machine Key
00000000
00000
1

15/16

"
__
2

3/32

"

1/2

"

1/16

"
108
Cast Iron
Clamping Screws, Machine Key
00000000
00000
2"
__
2

3/32

"
__
__
108
Cast Iron
Clamping Screws
00000000
00000
24mm
__
54mm
8mm
3.3mm
108
Steel
Clamping Screws
0000000
00000
25mm
__
54mm
8mm
3.3mm
108
Steel
Clamping Screws
0000000
00000
28mm
__
54mm
8mm
3.3mm
108
Steel
Clamping Screws
0000000
00000
30mm
__
54mm
8mm
3.3mm
108
Steel
Clamping Screws
0000000
00000
32mm
__
54mm
10mm
3.3mm
108
Steel
Clamping Screws
0000000
00000
35mm
__
54mm
10mm
3.3mm
108
Steel
Clamping Screws
0000000
00000
38mm
__
54mm
10mm
3.3mm
108
Steel
Clamping Screws
0000000
00000
40mm
__
54mm
12mm
3.3mm
108
Steel
Clamping Screws
0000000
00000
42mm
__
54mm
12mm
3.3mm
108
Cast Iron
Clamping Screws
0000000
00000

SDS Style Bushing

1/2

"
__
1

21/32

"

1/8

"

1/16

"
108
Steel
Clamping Screws
00000000
00000

9/16

"
__
1

21/32

"

1/8

"

1/16

"
108
Steel
Clamping Screws
00000000
00000

5/8

"
__
1

21/32

"

3/16

"

3/32

"
108
Steel
Clamping Screws
00000000
00000

3/4

"
__
1

21/32

"

3/16

"

3/32

"
108
Steel
Clamping Screws
00000000
00000

7/8

"
__
1

21/32

"

3/16

"

3/32

"
108
Steel
Clamping Screws
00000000
00000

15/16

"
__
1

21/32

"

1/4

"

1/8

"
108
Steel
Clamping Screws
00000000
00000
1"
__
1

21/32

"

1/4

"

1/8

"
108
Steel
Clamping Screws
00000000
00000
1

1/16

"
__
1

21/32

"

1/4

"

1/8

"
108
Steel
Clamping Screws
00000000
00000
1

1/8

"
__
1

21/32

"

1/4

"

1/8

"
108
Steel
Clamping Screws
00000000
00000
1

3/16

"
__
1

21/32

"

1/4

"

1/8

"
108
Steel
Clamping Screws
00000000
00000
1

1/4

"
__
1

21/32

"

1/4

"

1/8

"
108
Steel
Clamping Screws
00000000
00000
1

5/16

"
__
1

21/32

"

5/16

"

5/32

"
108
Steel
Clamping Screws
00000000
00000
1

3/8

"
__
1

21/32

"

5/16

"

5/32

"
108
Steel
Clamping Screws
00000000
00000
1

7/16

"
__
1

21/32

"

3/8

"

3/16

"
108
Steel
Clamping Screws
00000000
00000
1

1/2

"
__
1

21/32

"

3/8

"

3/16

"
108
Steel
Clamping Screws
00000000
00000
1

9/16

"
__
1

21/32

"

3/8

"

3/16

"
108
Steel
Clamping Screws
00000000
00000
1

5/8

"
__
1

21/32

"

3/8

"

3/16

"
108
Steel
Clamping Screws
00000000
00000
1

11/16

"
__
1

21/32

"

3/8

"

3/16

"
108
Steel
Clamping Screws
00000000
00000
1

3/4

"
__
1

21/32

"

3/8

"

1/8

"
108
Steel
Clamping Screws, Machine Key
00000000
00000
1

7/8

"
__
1

21/32

"

1/2

"

1/16

"
108
Cast Iron
Clamping Screws, Machine Key
00000000
00000
1

15/16

"
__
1

21/32

"

1/2

"

1/16

"
108
Cast Iron
Clamping Screws, Machine Key
00000000
00000
2"
__
1

21/32

"
__
__
108
Cast Iron
Clamping Screws
00000000
00000
24mm
__
43mm
8mm
3.3mm
108
Steel
Clamping Screws
0000000
00000
25mm
__
43mm
8mm
3.3mm
108
Steel
Clamping Screws
0000000
00000
28mm
__
43mm
8mm
3.3mm
108
Steel
Clamping Screws
0000000
00000
30mm
__
43mm
8mm
3.3mm
108
Steel
Clamping Screws
0000000
00000
32mm
__
43mm
10mm
3.3mm
108
Steel
Clamping Screws
0000000
00000
35mm
__
43mm
10mm
3.3mm
108
Steel
Clamping Screws
0000000
00000
38mm
__
43mm
10mm
3.3mm
108
Steel
Clamping Screws
0000000
00000
40mm
__
43mm
12mm
3.3mm
108
Steel
Clamping Screws
0000000
00000
42mm
__
43mm
12mm
3.3mm
108
Cast Iron
Clamping Screws
0000000
00000

SF Style Bushing

1/2

"
__
2

1/2

"

1/8

"

1/16

"
360
Steel
Clamping Screws
00000000
00000

5/8

"
__
2

1/2

"

3/16

"

3/32

"
360
Steel
Clamping Screws
00000000
00000

3/4

"
__
2

1/2

"

3/16

"

3/32

"
360
Steel
Clamping Screws
00000000
00000

7/8

"
__
2

1/2

"

3/16

"

3/32

"
360
Steel
Clamping Screws
00000000
00000
1"
__
2

1/2

"

1/4

"

1/8

"
360
Steel
Clamping Screws
00000000
00000
1

1/8

"
__
2

1/2

"

1/4

"

1/8

"
360
Steel
Clamping Screws
00000000
00000
1

3/16

"
__
2

1/2

"

1/4

"

1/8

"
360
Steel
Clamping Screws
00000000
00000