XL Series

Corrosion-Resistant

Timing Belt Pulleys


With Hub

Pulleys are anodized aluminum, which is more corrosion resistant than steel. They are XL series (extra light) and have trapezoidal teeth. Select a pulley with a maximum belt width that's the same or larger than your timing belt width.
For tight spots, choose a pulley without a hub.
For technical drawings and 3-D models, click on a part number.
Inch—Press-Fit Mount with Set Screw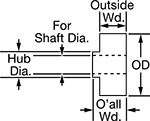 With Hub

OD
Number
of
Teeth
Pitch
For
Shaft


Dia.

Bore
Type
Inside


Wd.

Outside


Wd.

Overall


Wd.

Pitch


Dia.

Fabrication
Material
Hub


Dia.

Each
0.875"
10
0.200"

3/16

"
Finished
0.31"
0.438"
0.688"
0.637"
Machined
Anodized Aluminum
0.375"
0000000
000000
1"
12
0.200"

3/16

"
Finished
0.31"
0.438"
0.688"
0.764"
Machined
Anodized Aluminum
0.5"
0000000
00000
1.063"
13
0.200"

1/4

"
Finished
0.31"
0.438"
0.688"
0.828"
Machined
Anodized Aluminum
0.563"
0000000
00000
1.094"
14
0.200"

1/4

"
Finished
0.31"
0.438"
0.688"
0.891"
Machined
Anodized Aluminum
0.563"
0000000
00000
1.188"
15
0.200"

1/4

"
Finished
0.31"
0.438"
0.688"
0.955"
Machined
Anodized Aluminum
0.625"
0000000
00000
1.25"
16
0.200"

1/4

"
Finished
0.31"
0.438"
0.688"
1.109"
Machined
Anodized Aluminum
0.688"
0000000
00000
1.375"
18
0.200"

1/4

"
Finished
0.31"
0.438"
0.688"
1.146"
Machined
Anodized Aluminum
0.812"
0000000
00000
1.5"
20
0.200"

1/4

"
Finished
0.31"
0.438"
0.75"
1.273"
Machined
Anodized Aluminum
0.938"
0000000
00000
1.563"
21
0.200"

1/4

"
Finished
0.31"
0.438"
0.75"
1.337"
Machined
Anodized Aluminum
1"
0000000
00000
1.625"
22
0.200"

5/16

"
Finished
0.31"
0.438"
0.75"
1.401"
Machined
Anodized Aluminum
1"
0000000
00000
1.75"
24
0.200"

5/16

"
Finished
0.31"
0.438"
0.781"
1.528"
Machined
Anodized Aluminum
1.062"
0000000
00000
1.875"
26
0.200"

5/16

"
Finished
0.31"
0.438"
0.781"
1.655"
Machined
Anodized Aluminum
1.188"
0000000
00000
2"
28
0.200"

5/16

"
Finished
0.31"
0.438"
0.781"
1.783"
Machined
Anodized Aluminum
1.188"
0000000
00000
2.125"
30
0.200"

5/8

"
Finished
0.31"
0.438"
0.781"
1.91"
Machined
Anodized Aluminum
1.313"
0000000
00000
0.875"
10
0.200"

3/16

"
Finished
0.43"
0.563"
0.812"
0.637"
Machined
Anodized Aluminum
0.437"
0000000
00000
0.938"
11
0.200"

3/16

"
Finished
0.43"
0.563"
0.812"
0.7"
Machined
Anodized Aluminum
0.5"
0000000
00000
1"
12
0.200"

3/16

"
Finished
0.43"
0.563"
0.812"
0.764"
Machined
Anodized Aluminum
0.5"
0000000
00000
1.094"
14
0.200"

1/4

"
Finished
0.43"
0.563"
0.812"
0.891"
Machined
Anodized Aluminum
0.563"
0000000
00000
1.188"
15
0.200"

1/4

"
Finished
0.43"
0.563"
0.812"
0.955"
Machined
Anodized Aluminum
0.625"
0000000
00000
1.25"
16
0.200"

1/4

"
Finished
0.43"
0.563"
0.812"
1.019"
Machined
Anodized Aluminum
0.688"
0000000
00000
1.375"
18
0.200"

1/4

"
Finished
0.43"
0.563"
0.812"
1.146"
Machined
Anodized Aluminum
0.812"
0000000
00000
1.5"
20
0.200"

1/4

"
Finished
0.43"
0.563"
0.875"
1.273"
Machined
Anodized Aluminum
0.937"
0000000
00000
1.563"
21
0.200"

1/4

"
Finished
0.43"
0.563"
0.875"
1.337"
Machined
Anodized Aluminum
1"
0000000
00000
1.625"
22
0.200"

1/4

"
Finished
0.43"
0.563"
0.875"
1.401"
Machined
Anodized Aluminum
1"
000000
00000
1.75"
24
0.200"

1/4

"
Finished
0.43"
0.563"
0.906"
1.528"
Machined
Anodized Aluminum
1.063"
0000000
00000
1.75"
24
0.200"

3/8

"
Finished
0.43"
0.563"
0.906"
1.528"
Machined
Anodized Aluminum
1.063"
0000000
00000
1.875"
26
0.200"

1/4

"
Finished
0.43"
0.563"
0.906"
1.665"
Machined
Anodized Aluminum
1.188"
0000000
00000
2"
28
0.200"

1/4

"
Finished
0.43"
0.563"
0.906"
1.783"
Machined
Anodized Aluminum
1.188"
0000000
00000
2.125"
30
0.200"

1/4

"
Finished
0.43"
0.563"
0.906"
1.91"
Machined
Anodized Aluminum
1.312"
0000000
00000

With Hub

2.017"
32
0.200"

5/16

"
Finished
__
0.563"
1"
2.037"
Machined
Anodized Aluminum
1.5"
0000000
00000
2.272"
36
0.200"

5/16

"
Finished
__
0.563"
1"
2.292"
Machined
Anodized Aluminum
1.5"
0000000
00000
2.526"
40
0.200"

5/16

"
Finished
__
0.563"
1"
2.546"
Machined
Anodized Aluminum
1.5"
0000000
00000
2.654"
42
0.200"

5/16

"
Finished
__
0.563"
1"
2.674"
Machined
Anodized Aluminum
1.5"
0000000
00000
2.781"
44
0.200"

5/16

"
Finished
__
0.563"
1"
2.801"
Machined
Anodized Aluminum
1.5"
0000000
00000
2.845"
45
0.200"

3/8

"
Finished
__
0.563"
1"
2.865"
Machined
Anodized Aluminum
1.5"
0000000
00000
3.036"
48
0.200"

5/16

"
Finished
__
0.563"
1"
3.056"
Machined
Anodized Aluminum
1.5"
000000
00000
3.163"
50
0.200"

3/8

"
Finished
__
0.563"
1"
3.183"
Machined
Anodized Aluminum
1.5"
0000000
00000
3.8"
60
0.200"

3/8

"
Finished
__
0.563"
1"
3.82"
Machined
Anodized Aluminum
1.5"
0000000
00000
0.875"
10
0.200"

3/16

"
Finished
0.429"
0.563"
0.563"
0.637"
Machined
Anodized Aluminum
__
00000000
00000
0.938"
10
0.200"

1/4

"
Finished
0.429"
0.563"
0.563"
0.637"
Machined
Anodized Aluminum
__
00000000
00000
0.938"
11
0.200"

1/4

"
Finished
0.429"
0.563"
0.563"
0.7"
Machined
Anodized Aluminum
__
00000000
00000
1"
12
0.200"

3/16

"
Finished
0.429"
0.563"
0.563"
0.764"
Machined
Anodized Aluminum
__
00000000
00000
1"
12
0.200"

1/4

"
Finished
0.429"
0.563"
0.563"
0.764"
Machined
Anodized Aluminum
__
00000000
00000
1.094"
14
0.200"

1/4

"
Finished
0.429"
0.563"
0.563"
0.891"
Machined
Anodized Aluminum
__
00000000
00000
1.094"
14
0.200"

5/16

"
Finished
0.429"
0.563"
0.563"
0.891"
Machined
Anodized Aluminum
__
00000000
00000
1.188"
15
0.200"

1/4

"
Finished
0.43"
0.563"
0.563"
0.955"
Machined
Anodized Aluminum
__
0000000
00000
1.188"
15
0.200"

5/16

"
Finished
0.429"
0.563"
0.563"
0.955"
Machined
Anodized Aluminum
__
00000000
00000
1.25"
16
0.200"

1/4

"
Finished
0.429"
0.563"
0.563"
1.019"
Machined
Anodized Aluminum
__
00000000
00000
1.25"
16
0.200"

5/16

"
Finished
0.429"
0.563"
0.563"
1.019"
Machined
Anodized Aluminum
__
00000000
00000
1.25"
16
0.200"

3/8

"
Finished
0.429"
0.563"
0.563"
1.019"
Machined
Anodized Aluminum
__
00000000
00000
1.312"
18
0.200"

1/4

"
Finished
0.429"
0.563"
0.563"
1.146"
Machined
Anodized Aluminum
__
00000000
00000
1.312"
18
0.200"

5/16

"
Finished
0.429"
0.563"
0.563"
1.146"
Machined
Anodized Aluminum
__
00000000
00000
1.312"
18
0.200"

3/8

"
Finished
0.429"
0.563"
0.563"
1.146"
Machined
Anodized Aluminum
__
00000000
00000
1.312"
18
0.200"

1/2

"
Finished
0.429"
0.563"
0.563"
1.146"
Machined
Anodized Aluminum
__
00000000
00000
1.5"
20
0.200"

1/4

"
Finished
0.429"
0.563"
0.563"
1.273"
Machined
Anodized Aluminum
__
00000000
00000
1.5"
20
0.200"

5/16

"
Finished
0.429"
0.563"
0.563"
1.273"
Machined
Anodized Aluminum
__
00000000
00000
1.5"
20
0.200"

3/8

"
Finished
0.429"
0.563"
0.563"
1.273"
Machined
Anodized Aluminum
__
00000000
00000
1.5"
20
0.200"

1/2

"
Finished
0.429"
0.563"
0.563"
1.273"
Machined
Anodized Aluminum
__
00000000
00000
1.563"
21
0.200"

1/4

"
Finished
0.429"
0.563"
0.563"
1.337"
Machined
Anodized Aluminum
__
00000000
00000
1.625"
22
0.200"

1/4

"
Finished
0.429"
0.563"
0.563"
1.401"
Machined
Anodized Aluminum
__
00000000
00000
1.625"
22
0.200"

5/16

"
Finished
0.429"
0.563"
0.563"
1.401"
Machined
Anodized Aluminum
__
00000000
00000
1.625"
22
0.200"

3/8

"
Finished
0.429"
0.563"
0.563"
1.401"
Machined
Anodized Aluminum
__
00000000
00000
1.75"
24
0.200"

1/4

"
Finished
0.429"
0.563"
0.563"
1.528"
Machined
Anodized Aluminum
__
00000000
00000
1.75"
24
0.200"

5/16

"
Finished
0.429"
0.563"
0.563"
1.528"
Machined
Anodized Aluminum
__
00000000
00000
1.75"
24
0.200"

3/8

"
Finished
0.429"
0.563"
0.563"
1.528"
Machined
Anodized Aluminum
__
00000000
00000
1.75"
24
0.200"

1/2

"
Finished
0.429"
0.563"
0.563"
1.528"
Machined
Anodized Aluminum
__
00000000
00000
2"
28
0.200"

1/4

"
Finished
0.429"
0.563"
0.563"
1.783"
Machined
Anodized Aluminum
__
00000000
00000
2.125"
30
0.200"

1/4

"
Finished
0.429"
0.563"
0.563"
1.91"
Machined
Anodized Aluminum
__
00000000
00000
2.125"
30
0.200"

5/16

"
Finished
0.429"
0.563"
0.563"
1.91"
Machined
Anodized Aluminum
__
00000000
00000
2.125"
30
0.200"

3/8

"
Finished
0.429"
0.563"
0.563"
1.91"
Machined
Anodized Aluminum
__
00000000
00000
2.125"
30
0.200"

1/2

"
Finished
0.429"
0.563"
0.563"
1.91"
Machined
Anodized Aluminum
__
00000000
00000
2.25"
32
0.200"

1/4

"
Finished
0.429"
0.563"
0.563"
2.037"
Machined
Anodized Aluminum
__
00000000
00000
2.25"
32
0.200"

5/16

"
Finished
0.429"
0.563"
0.563"
2.037"
Machined
Anodized Aluminum
__
00000000
00000
2.25"
32
0.200"

3/8

"
Finished
0.429"
0.563"
0.563"
2.037"
Machined
Anodized Aluminum
__
00000000
00000
Metric—Press-Fit Mount with Set Screw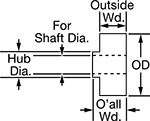 With Hub

OD,


mm
Number
of
Teeth

Pitch,


mm
For Shaft


Dia.,


mm
Bore
Type
Inside


Wd.,


mm
Outside


Wd.,


mm
Overall


Wd.,


mm
Pitch


Dia.,


mm
Fabrication
Material
Hub


Dia.,


mm
Each
22
10
5.080
6
Finished
11.2
14.2
20.6
16.2
Machined
Anodized Aluminum
10
00000000
000000
24
11
5.080
6
Finished
11.2
14.2
20.6
17.8
Machined
Anodized Aluminum
11
00000000
00000
25
12
5.080
6
Finished
11.2
14.2
20.6
19.4
Machined
Anodized Aluminum
13
00000000
00000
28
14
5.080
8
Finished
11.2
14.2
20.6
22.6
Machined
Anodized Aluminum
14
00000000
00000
30
15
5.080
8
Finished
11.2
14.2
20.6
24.3
Machined
Anodized Aluminum
16
00000000
00000
32
16
5.080
8
Finished
11.2
14.2
20.6
25.9
Machined
Anodized Aluminum
17
00000000
00000
35
18
5.080
8
Finished
11.2
14.2
20.6
29.1
Machined
Anodized Aluminum
21
00000000
00000
38
20
5.080
8
Finished
11.2
14.2
22
32.3
Machined
Anodized Aluminum
24
00000000
00000
41
22
5.080
8
Finished
11.2
14.2
22
35.6
Machined
Anodized Aluminum
25
00000000
00000
44
24
5.080
8
Finished
11.2
14.2
22
38.8
Machined
Anodized Aluminum
27
00000000
00000
51
28
5.080
8
Finished
11.2
14.2
23.1
45.4
Machined
Anodized Aluminum
30
00000000
00000
54
30
5.080
10
Finished
11.2
14.2
23.1
48.5
Machined
Anodized Aluminum
33
00000000
00000
57
32
5.080
8
Finished
11.2
14.2
23.1
51.7
Machined
Anodized Aluminum
37
00000000
00000
57
32
5.080
12
Finished
11.2
14.2
23.1
51.7
Machined
Anodized Aluminum
37
00000000
00000

With Hub

57.7
36
5.080
10
Finished
__
14.3
25.4
58.2
Machined
Anodized Aluminum
38
00000000
00000
64.2
40
5.080
12
Finished
__
14.3
25.4
64.7
Machined
Anodized Aluminum
38
00000000
00000
77.1
48
5.080
12
Finished
__
14.3
25.4
77.6
Machined
Anodized Aluminum
38
00000000
00000
96.5
60
5.080
12
Finished
__
14.3
25.4
97
Machined
Anodized Aluminum
38
00000000
00000
115.9
72
5.080
12
Finished
__
14.3
25.4
116.4
Machined
Anodized Aluminum
38
00000000
00000
22
10
5.080
6
Finished
10.9
14.3
14.3
16.2
Machined
Anodized Aluminum
__
00000000
00000
24
11
5.080
6
Finished
10.9
14.3
14.3
17.8
Machined
Anodized Aluminum
__
00000000
00000
25
12
5.080
6
Finished
10.9
14.3
14.3
19.4
Machined
Anodized Aluminum
__
00000000
00000
28
14
5.080
8
Finished
10.9
14.3
14.3
22.6
Machined
Anodized Aluminum
__
00000000
00000
30
15
5.080
8
Finished
10.9
14.3
14.3
24.3
Machined
Anodized Aluminum
__
00000000
00000
32
16
5.080
8
Finished
10.9
14.3
14.3
25.9
Machined
Anodized Aluminum
__
00000000
00000
35
18
5.080
8
Finished
10.9
14.3
14.3
29.1
Machined
Anodized Aluminum
__
00000000
00000
38
20
5.080
8
Finished
10.9
14.3
14.3
32.3
Machined
Anodized Aluminum
__
00000000
00000
41
22
5.080
8
Finished
10.9
14.3
14.3
35.6
Machined
Anodized Aluminum
__
00000000
00000
44
24
5.080
8
Finished
10.9
14.3
14.3
38.8
Machined
Anodized Aluminum
__
00000000
00000
51
28
5.080
8
Finished
10.9
14.3
14.3
45.3
Machined
Anodized Aluminum
__
00000000
00000
54
30
5.080
8
Finished
10.9
14.3
14.3
48.5
Machined
Anodized Aluminum
__
00000000
00000