Rotating Number and Letter Rubber Stamps
Rotate the individual bands to select the characters you need. Stamp pads and ink are sold separately.
Optional wall-mount rack holds up to 12 stamps.
Also Available: Other character heights and number ranges for stamps with letters and numbers. Please ask for 13455T999 and specify character height and number of bands.

With Numbers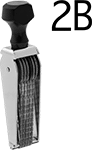 With Letters and Numbers
No.

of
Bands
Includes
Each

Number Stamps

5
One each of 0-9 and Blank ( ) per band
0000000
000000
6
One each of 0-9 and Blank ( ) per band
0000000
00000
7
One each of 0-9 and Blank ( ) per band
0000000
00000
8
One each of 0-9 and Blank ( ) per band
00000000
00000
10
One each of 0-9 and Blank ( ) per band
00000000
00000
12
One each of 0-9 and Blank ( ) per band
00000000
00000
5
One each of 0-9 and Blank ( ) per band
0000000
00000
6
One each of 0-9 and Blank ( ) per band
0000000
00000
7
One each of 0-9 and Blank ( ) per band
0000000
00000
8
One each of 0-9 and Blank ( ) per band
00000000
00000
10
One each of 0-9 and Blank ( ) per band
00000000
00000
12
One each of 0-9 and Blank ( ) per band
00000000
00000
5
One each of 0-9 and Blank ( ) per band
0000000
00000
6
One each of 0-9 and Blank ( ) per band
0000000
00000
7
One each of 0-9 and Blank ( ) per band
0000000
00000
8
One each of 0-9 and Blank ( ) per band
00000000
00000
10
One each of 0-9 and Blank ( ) per band
00000000
00000
12
One each of 0-9 and Blank ( ) per band
00000000
00000
5
One each of 0-9 and Blank ( ) per band
0000000
00000
6
One each of 0-9 and Blank ( ) per band
0000000
00000
7
One each of 0-9 and Blank ( ) per band
0000000
00000
8
One each of 0-9 and Blank ( ) per band
00000000
00000
10
One each of 0-9 and Blank ( ) per band
00000000
00000
12
One each of 0-9 and Blank ( ) per band
00000000
000000
5
One each of 0-9 and Blank ( ) per band
0000000
00000
6
One each of 0-9 and Blank ( ) per band
0000000
00000
7
One each of 0-9 and Blank ( ) per band
0000000
00000
8
One each of 0-9 and Blank ( ) per band
00000000
000000
10
One each of 0-9 and Blank ( ) per band
00000000
000000

Letter and Number Stamps

5
One each of 0-9, A-Z, Dash (-), and Blank ( ) per band
00000000
000000
6
One each of 0-9, A-Z, Dash (-), and Blank ( ) per band
00000000
000000
8
One each of 0-9, A-Z, Dash (-), and Blank ( ) per band
00000000
000000
10
One each of 0-9, A-Z, Dash (-), and Blank ( ) per band
00000000
000000
12
One each of 0-9, A-Z, Dash (-), and Blank ( ) per band
00000000
000000
5
One each of 0-9, A-Z, Dash (-), and Blank ( ) per band
00000000
000000
6
One each of 0-9, A-Z, Dash (-), and Blank ( ) per band
00000000
000000
10
One each of 0-9, A-Z, Dash (-), and Blank ( ) per band
00000000
000000
12
One each of 0-9, A-Z, Dash (-), and Blank ( ) per band
00000000
000000
5
One each of 0-9, A-Z, Dash (-), and Blank ( ) per band
00000000
000000
6
One each of 0-9, A-Z, Dash (-), and Blank ( ) per band
00000000
000000
8
One each of 0-9, A-Z, Dash (-), and Blank ( ) per band
00000000
000000
10
One each of 0-9, A-Z, Dash (-), and Blank ( ) per band
00000000
000000
12
One each of 0-9, A-Z, Dash (-), and Blank ( ) per band
00000000
000000
5
One each of 0-9, A-Z, Dash (-), and Blank ( ) per band
00000000
000000
6
One each of 0-9, A-Z, Dash (-), and Blank ( ) per band
00000000
000000
8
One each of 0-9, A-Z, Dash (-), and Blank ( ) per band
00000000
000000
10
One each of 0-9, A-Z, Dash (-), and Blank ( ) per band
00000000
000000
12
One each of 0-9, A-Z, Dash (-), and Blank ( ) per band
00000000
000000