Roller Conveyors
Easily move light- to medium-weight objects with flat or uneven bottoms.
Curved and straight conveyors with rollers larger than 3/4" in diameter have connecting hooks to attach conveyor sections together.
Galvanized steel conveyors are stronger than aluminum conveyors.
Note: Capacities are based on an evenly distributed load with at least one stand at each end for straight conveyors, an additional stand in the center for curved conveyors, and for mobile stands, between each end. You can increase the capacity of a 10-ft. straight conveyor by adding a stand in the center. The length of the material you're conveying should be at least three times the roller spacing.
For technical drawings and 3-D models, click on a part number.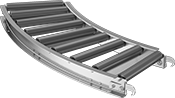 Steel
45°
Curved Conveyor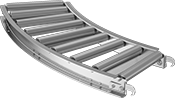 Aluminum
45°
Curved Conveyor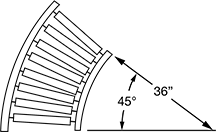 O'all

Between
Frame
Radius
Frame


Ht.

Cap.




(No. of Stands Required)

No.

of Stands
Included
Each

1 3/8"

Dia.

Galvanized Steel

Rollers—

1/4"

Round Axle

12"
10"
36"
2

1/2

"
200 lbs./ft. (3)
None
00000000
0000000
15"
13"
36"
2

1/2

"
200 lbs./ft. (3)
None
00000000
000000
18"
16"
36"
2

1/2

"
200 lbs./ft. (3)
None
00000000
000000
24"
22"
36"
2

1/2

"
200 lbs./ft. (3)
None
00000000
000000

1 3/8"

Dia.

Aluminum

Rollers—

1/4"

Round Axle

12"
10"
36"
2

1/2

"
100 lbs./ft. (3)
None
000000000
000000
15"
13"
36"
2

1/2

"
100 lbs./ft. (3)
None
000000000
000000
18"
16"
36"
2

1/2

"
100 lbs./ft. (3)
None
000000000
000000
24"
22"
36"
2

1/2

"
100 lbs./ft. (3)
None
000000000
000000

1.9"

Dia.

Galvanized Steel

Rollers—

1/4"

Round Axle

12"
10"
36"
2

1/2

"
200 lbs./ft. (3)
None
0000000
000000
15"
13"
36"
2

1/2

"
200 lbs./ft. (3)
None
0000000
000000
18"
16"
36"
2

1/2

"
200 lbs./ft. (3)
None
0000000
000000
24"
22"
36"
2

1/2

"
200 lbs./ft. (3)
None
0000000
000000
26"
24"
36"
2

1/2

"
200 lbs./ft. (3)
None
0000000
000000