Motorized Roller Conveyors
Also known as line-shaft conveyors, these are driven by a drive shaft and round belts. The drive shaft continues to run even when the accumulation of packages may cause some rollers to stop turning. Conveyors can be hardwired for material flow in either direction. Only straight conveyor sections contain a motor and can power up to 60 ft. of conveyor extensions on either side.
Note: Capacities are based on an evenly distributed load. Use a stand at each end for straight conveyors and extensions. Add an additional stand in the center to increase capacity. For 90° curved conveyor extensions, use a stand at each end plus a stand in the center. Connected conveyor sections share a stand. The length of the material you're conveying should be at least three times the roller spacing.
For technical drawings and 3-D models, click on a part number.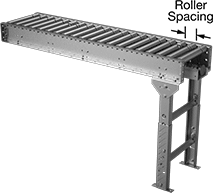 O'all




Wd.

Between
Frame
Spacing
Projection
Frame

O'all

Cap.,




lbs./ft.

Features
Each

1.9"

Dia.

Galvanized Steel

Rollers—

7/16"

Hex Axle

16"
13"
3"

1/4

"
5

1/2

"
36"-48"
60
Connecting Plates
0000000
0000000
19"
16"
3"

1/4

"
5

1/2

"
36"-48"
60
Connecting Plates
0000000
000000
25"
22"
3"

1/4

"
5

1/2

"
36"-48"
60
Connecting Plates
0000000
000000
35"
32"
3"

1/4

"
5

1/2

"
36"-48"
60
Connecting Plates
0000000
00000000

1.9"

Dia.

Galvanized Steel

Rollers—

7/16"

Hex Axle

16"
13"
3"

1/4

"
5

1/2

"
36"-48"
60
Connecting Plates
0000000
00000000
19"
16"
3"

1/4

"
5

1/2

"
36"-48"
60
Connecting Plates
0000000
00000000
25"
22"
3"

1/4

"
5

1/2

"
36"-48"
60
Connecting Plates
0000000
00000000
35"
32"
3"

1/4

"
5

1/2

"
36"-48"
60
Connecting Plates
0000000
00000000

1.9"

Dia.

Galvanized Steel

Rollers—

7/16"

Hex Axle

16"
13"
3"

1/4

"
5

1/2

"
36"-48"
60
Connecting Plates
0000000
00000000
19"
16"
3"

1/4

"
5

1/2

"
36"-48"
60
Connecting Plates
0000000
00000000
25"
22"
3"

1/4

"
5

1/2

"
36"-48"
60
Connecting Plates
0000000
00000000
35"
32"
3"

1/4

"
5

1/2

"
36"-48"
60
Connecting Plates
0000000
00000000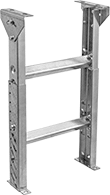 Ht.

Conveyor

Mount.


Fasteners
Included

No.

of
Conveyor


Mount.

Holes

Lg.

Wd.

Mount.


Hole


Ctr.-to-Ctr.

Floor

Mount.


Fasteners
Included

No.

of Floor


Mount.


Holes
Floor


Mount.


Hole

Dia.

Each
30

1/4

" to 42

1/4

"
Yes
4
1"

7/16

"
4"
No
4

9/16

"
00000000
0000000
30

1/4

" to 42

1/4

"
Yes
4
1"

7/16

"
4"
No
4

9/16

"
00000000
000000
30

1/4

" to 42

1/4

"
Yes
4
1"

7/16

"
4"
No
4

9/16

"
00000000
000000
30

1/4

" to 42

1/4

"
Yes
4
1"

7/16

"
4"
No
4

9/16

"
00000000
000000