Mounting Hardware Included

Mounting Hardware Included
Assembled or Unassembled

Assembled or Unassembled
DFARS (Defense Acquisition Regulations Supplement)

DFARS

(Defense

Acquisition

Regulations

Supplement)
RoHS (Restriction of Hazardous Substances)

RoHS

(Restriction

of
Hazardous

Substances)
REACH (Registration, Evaluation, Authorization and Restriction of Chemicals)

REACH

(Registration,




Evaluation,

Authorization
and Restriction of

Chemicals)
Planks,

Guardrails,

and Toeboards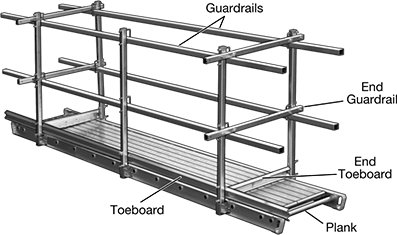 Create catwalks, bridges, gangways, and mezzanines by combining these planks, guardrails, and toeboards. They also work well between trestles, ladder jacks, and ladder scaffolding supports. Rungs on the underside are for use as hand grips.
Guardrails mount to either side of the plank with the upper rails 38" to 42" above the plank surface.
Note: Planks, guardrails, and toeboards meet OSHA dimensional standards. Users are responsible for checking local, state, and federal codes, including OSHA, for safe installation and operating practices.
For technical drawings and 3-D models, click on a part number.
For
Plank


Lg.,

ft.

Material
Mounting
Hardware
Included
Assembled
or
Unassembled
Includes
Specifications
Met
Each
8
Aluminum
Yes
Unassembled
Midrail, Vertical Posts
ANSI/ASSP A10.8, OSHA Compliant 29 CFR 1926.451
0000000
0000000
12
Aluminum
Yes
Unassembled
Midrail, Vertical Posts
ANSI/ASSP A10.8, OSHA Compliant 29 CFR 1926.451
0000000
000000
16
Aluminum
Yes
Unassembled
Midrail, Vertical Posts
ANSI/ASSP A10.8, OSHA Compliant 29 CFR 1926.451
0000000
000000
20
Aluminum
Yes
Unassembled
Midrail, Vertical Posts
ANSI/ASSP A10.8, OSHA Compliant 29 CFR 1926.451
0000000
000000
24
Aluminum
Yes
Unassembled
Midrail, Vertical Posts
ANSI/ASSP A10.8, OSHA Compliant 29 CFR 1926.451
0000000
000000