Planks,

Guardrails,

and Toeboards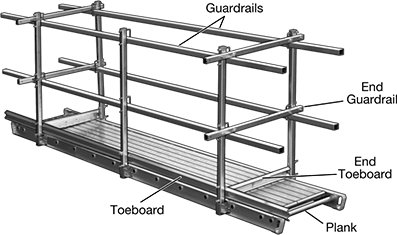 Create catwalks, bridges, gangways, and mezzanines by combining these planks, guardrails, and toeboards. They also work well between trestles, ladder jacks, and ladder scaffolding supports. Rungs on the underside are for use as hand grips.
Planks have a slip-resistant surface for sure footing. The vinyl end caps protect against sharp edges and act as hand grips.
Note: Planks, guardrails, and toeboards meet OSHA dimensional standards. Users are responsible for checking local, state, and federal codes, including OSHA, for safe installation and operating practices.
For technical drawings and 3-D models, click on a part number.
Lg.,




ft.

Ht.

Wt.,




lbs.

Material
Plank
Tread
Mounting
Hardware
Included
Assembled
or
Unassembled
Specifications
Met
Each
8
4"
27
Aluminum
Smooth
Yes
Unassembled
ANSI/ASSP A10.8, OSHA Compliant 29 CFR 1926.451, UL 1322
0000000
0000000
12
4"
40
Aluminum
Smooth
Yes
Unassembled
ANSI/ASSP A10.8, OSHA Compliant 29 CFR 1926.451, UL 1322
0000000
000000
16
5"
58
Aluminum
Smooth
Yes
Unassembled
ANSI/ASSP A10.8, OSHA Compliant 29 CFR 1926.451, UL 1322
0000000
000000
20
6"
85
Aluminum
Smooth
Yes
Unassembled
ANSI/ASSP A10.8, OSHA Compliant 29 CFR 1926.451, UL 1322
0000000
000000
24
6"
109
Aluminum
Smooth
Yes
Unassembled
ANSI/ASSP A10.8, OSHA Compliant 29 CFR 1926.451, UL 1322
0000000
000000
8
4"
33
Aluminum
Smooth
Yes
Unassembled
ANSI/ASSP A10.8, OSHA Compliant 29 CFR 1926.451, UL 1322
0000000
000000
12
4"
48
Aluminum
Smooth
Yes
Unassembled
ANSI/ASSP A10.8, OSHA Compliant 29 CFR 1926.451, UL 1322
0000000
000000
16
5"
70
Aluminum
Smooth
Yes
Unassembled
ANSI/ASSP A10.8, OSHA Compliant 29 CFR 1926.451, UL 1322
0000000
000000
20
6"
102
Aluminum
Smooth
Yes
Unassembled
ANSI/ASSP A10.8, OSHA Compliant 29 CFR 1926.451, UL 1322
0000000
000000
24
6"
121
Aluminum
Smooth
Yes
Unassembled
ANSI/ASSP A10.8, OSHA Compliant 29 CFR 1926.451, UL 1322
0000000
00000000
8
4"
38
Aluminum
Smooth
Yes
Unassembled
ANSI/ASSP A10.8, OSHA Compliant 29 CFR 1926.451, UL 1322
0000000
000000
12
4"
56
Aluminum
Smooth
Yes
Unassembled
ANSI/ASSP A10.8, OSHA Compliant 29 CFR 1926.451, UL 1322
0000000
000000
16
5"
81
Aluminum
Smooth
Yes
Unassembled
ANSI/ASSP A10.8, OSHA Compliant 29 CFR 1926.451, UL 1322
0000000
000000
20
6"
115
Aluminum
Smooth
Yes
Unassembled
ANSI/ASSP A10.8, OSHA Compliant 29 CFR 1926.451, UL 1322
0000000
000000
24
6"
138
Aluminum
Smooth
Yes
Unassembled
ANSI/ASSP A10.8, OSHA Compliant 29 CFR 1926.451, UL 1322
0000000
00000000
8
4"
41
Aluminum
Smooth
Yes
Unassembled
ANSI/ASSP A10.8, OSHA Compliant 29 CFR 1926.451, UL 1322
0000000
000000
12
4"
60
Aluminum
Smooth
Yes
Unassembled
ANSI/ASSP A10.8, OSHA Compliant 29 CFR 1926.451, UL 1322
0000000
000000
20
6"
124
Aluminum
Smooth
Yes
Unassembled
ANSI/ASSP A10.8, OSHA Compliant 29 CFR 1926.451, UL 1322
0000000
00000000
24
6"
147
Aluminum
Smooth
Yes
Unassembled
ANSI/ASSP A10.8, OSHA Compliant 29 CFR 1926.451, UL 1322
0000000
00000000
12
4"
71
Aluminum
Smooth
Yes
Unassembled
ANSI/ASSP A10.8, OSHA Compliant 29 CFR 1926.451, UL 1322
0000000
000000
16
5"
103
Aluminum
Smooth
Yes
Unassembled
ANSI/ASSP A10.8, OSHA Compliant 29 CFR 1926.451, UL 1322
0000000
000000
20
5"
128
Aluminum
Smooth
Yes
Unassembled
ANSI/ASSP A10.8, OSHA Compliant 29 CFR 1926.451, UL 1322
0000000
00000000
24
6"
161
Aluminum
Smooth
Yes
Unassembled
ANSI/ASSP A10.8, OSHA Compliant 29 CFR 1926.451, UL 1322
0000000
00000000