Vacuum Workholding Plates
Also known as vacuum chucks, these plates secure thin and flexible parts that can't be held with vises or clamps for milling, drilling, routing, and finishing operations. Connect the system to your shop's compressed air supply and it's ready to use. For applications requiring only part of the plate surface, use the gasket cord to seal off the area.
Risers, also known as vacuum pods, raise the workpiece off the vacuum table to give the cutting tool better access. Suction transfers from the table through the top of the riser, so to get a firm hold the workpiece must make contact with the full top length and width of the riser.
Fixturing Tables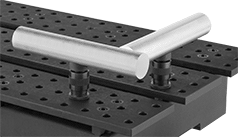 Adjustable-Height
Risers and
V-Blocks
Add components such as clamps, brackets, stops, rests, mounting plates, fixturing squares, risers, and V-blocks to build fixtures for welding and assembly.
For technical drawings and 3-D models, click on a part number.


Risers hold components above the surface of the table. A 5/8" hole at the top lets you attach a component, such as a V-block, to the riser.