Backpack
Hand-Pump

Sprayers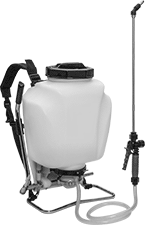 Carry this sprayer comfortably on your back using the padded shoulder straps. Pump the handle to pressurize the tank, then squeeze the trigger on the wand to spray degreasers, insecticides, disinfectants, cleaning solutions, and herbicides. The trigger locks for continuous spraying.
Replacement trigger and wand kits include a chrome-plated steel wand. Kit does not include nozzles.
Note: The material of the parts can affect a sprayer's compatibility with a chemical or solution. Make sure the tank, seal, wand, and nozzle are suitable for your application.
Replacement
Trigger and
Wand Kits

Cap.,




gal.

Wd.

Dp.

Ht.

Tank
Material
Seal
Material
Wand
Material
Color
Hose


Lg.

Wand


Lg.

Fill
Opening


Dia.

Includes
Each
Each
Each

Cone/Flat/Stream

Dispensing

4
14

3/4

"
9"
21

7/8

"
Polyethylene Plastic
Viton® Fluoroelastomer Rubber
Stainless Steel
Semi-Clear White
48"
20"
6"
One Brass Nozzle, Two Polypropylene Plastic Nozzles
000000
0000000
0000000
00000
0000000
000000