Double-Wall

Plastic Tanks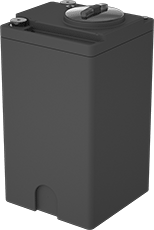 Shown Separated
No need for separate spill-control pallets or trays—comply with EPA regulations for storing hazardous liquids with just one tank. These tanks have two walls, so if the primary compartment ruptures, the secondary one will contain the leak. It can hold 110% of the primary tank's volume and will also protect it from damage in case of impact.
Made of polyethylene, these tanks can store a broader range of chemicals than steel double-wall tanks. The plastic contains UV inhibitors so they can be used outside.
These tanks have a flat space on top where you can mount a metering pump. Because these tanks meet NSF/ANSI 61 for drinking water, you can meter chemicals stored in them into your drinking water system.
For technical drawings and 3-D models, click on a part number.
Cap.,




gal.

Wd.

Dp.

Ht.

Primary
Compartment
Opening

(No. of)

Secondary
Compartment
Opening

(No. of)

Color

Max.




Temp.,




°F

Specifications
Met
Includes
Each

Polyethylene Plastic

10
14"
14"
22"
4" Fill Opening Dia. (1)


3/8

" Opening Dia. (1)
2 NPT Female Opening (1)
1 NPT Female Opening (1)

Blue
130°
EPA 40 CFR 264.175
NSF/ANSI 61
Vented Fill Cap
0000000
0000000
20
18"
18"
24"
8" Fill Opening Dia. (1)


3/8

" Opening Dia. (1)
2 NPT Female Opening (2)
1 NPT Female Opening (1)

Blue
130°
EPA 40 CFR 264.175
NSF/ANSI 61
Vented Fill Cap
0000000
000000
40
20"
20"
38"
8" Fill Opening Dia. (1)


3/8

" Opening Dia. (1)
2 NPT Female Opening (2)
1 NPT Female Opening (1)

Blue
130°
EPA 40 CFR 264.175
NSF/ANSI 61
Vented Fill Cap
0000000
00000000
70
24"
24"
41"
8" Fill Opening Dia. (1)


3/8

" Opening Dia. (1)
2 NPT Female Opening (2)
1 NPT Female Opening (1)

Blue
130°
EPA 40 CFR 264.175
NSF/ANSI 61
Vented Fill Cap
0000000
00000000