Electric Sprayers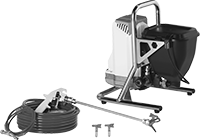 To save time and effort when disinfecting bathrooms, worksites, and other large spaces, these sprayers are electric powered, so you don't need to pump them by hand. They have a nonsparking motor, which means they work with flammable chemicals. But, they won't work with oil-based disinfectants. The nozzle produces a flat, thin spray pattern for an even coating and comes in three sizes. The smaller the nozzle, the finer the spray. Adjust the flow rate to avoid wasting chemicals.
The wand is light enough to hold with one hand and has a trigger that's easy to squeeze, reducing hand fatigue. Use the spray extension wand to access hard-to-reach areas and spray from a distance when working with hazardous chemicals. These sprayers also have two hose lengths—the shorter length is more flexible and gives you more control when spraying high flow rates, while the longer length lets you reach more places without having to move the sprayer.
Note: The material of the parts can affect a sprayer's compatibility with a chemical or solution. Make sure all parts of the sprayer are suitable to your application.
Cap.,




gal.

Ht.

Wd.

Dp.

Max.

Flow


Rate,


gpm
Operating


Pressure,


psi
Tank
Material
Color
Hose


Lg.

Wd.

Dp.

Cord


Lg.,




ft.

Includes
Each

Flat Dispensing

1

1/2

19

5/8

"
13

1/2

"
20

1/4

"
0.5
0 - 1,000
Polyethylene Plastic
Black
4.5 ft., 50 ft.
8"
9"
6

1/2

0.015" Dia. Nozzle, 0.017" Dia. Nozzle, 0.019" Dia. Nozzle, 15" Spray Extension Wand
0000000
000000000