Mist Coolant Dispensers with Reservoir
These dispensers have a reservoir and controls for coolant flow. Designed to cool short and intermittent machine cycles, misting dispensers dissipate heat more efficiently than droplet dispensers, while using considerably less fluid than flood dispensers.
Styles E and F have any-which-way nozzles that stay in place once positioned.
Use the optional on/off air switch with styles D and E. Install in the air supply line to save energy.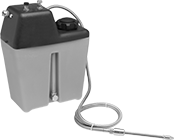 D

E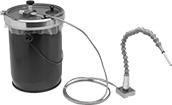 F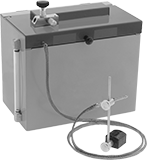 G
Style

Cap.

Flow
Rate @
Pressure

Max.




Pressure,


psi

No.


of
Hose


Lg.

Hose
Material

Lg.

Type
Nozzle
Material

O'all




Ht.

Wd.

Dp.

Dia.

Reservoir
Material
For

Max.

SSU
Viscosity
Grade
Air Inlet


Pressure,


psi
Each

For Use With

Coolant,

Water

A
32 fl. oz.
0.1 gph @ 100 psi
100
1
5 ft.
Polyurethane Rubber
6"
Rigid
Brass
8

1/2

"
5

1/4

"
4"
__
Polyethylene Plastic
35
50-100
0000000
0000000
B
32 fl. oz.
0.1 gph @ 100 psi
100
1
5 ft.
Brass
6"
Rigid
Brass
8

1/2

"
5

1/4

"
4"
__
Polyethylene Plastic
35
50-100
0000000
000000
C
1 gal.
0.2 gph @ 100 psi
100
1
5 ft.
Brass
6"
Rigid
Brass
12

1/4

"
10"
5

1/4

"
__
Polyethylene Plastic
35
50-100
0000000
000000
C
1 gal.
0.3 gph @ 100 psi
100
2
5 ft.
Brass
6"
Rigid
Brass
12

1/4

"
10"
5

1/4

"
__
Polyethylene Plastic
35
50-100
0000000
000000
D
1 gal.
6 gph @ 125 psi
125
1
4 ft.
Nylon Plastic
6"
Rigid
Brass
10

3/4

"
7

3/4

"
3

1/2

"
__
Stainless Steel
Not Rated
30-120
0000000
000000
D
1 gal.
6 gph @ 125 psi
125
2
4 ft.
Nylon Plastic
6"
Rigid
Brass
10

3/4

"
7

3/4

"
3

1/2

"
__
Stainless Steel
Not Rated
30-120
0000000
000000
D
3 gal.
6 gph @ 125 psi
125
2
4 ft.
Nylon Plastic
6"
Rigid
Brass
13

3/4

"
8

5/8

"
6"
__
Stainless Steel
Not Rated
30-120
0000000
000000
E
1 gal.
6 gph @ 125 psi
125
1
4 ft.
Nylon Plastic
12"
Flexible
Acetal Plastic
10

3/4

"
7

3/4

"
3

1/2

"
__
Stainless Steel
Not Rated
30-120
0000000
000000

For Use With

Coolant,

Water,

Cutting Oil

F
1 gal.
Not Rated
120
1
4 ft.
Polyethylene Plastic
12"
Flexible
PVC Plastic
12"
__
__
7"
Steel
30
30-125
0000000
000000
F
1 gal.
Not Rated
120
2
4 ft.
Polyethylene Plastic
12"
Flexible
PVC Plastic
12"
__
__
7"
Steel
30
30-125
0000000
000000
G
2 gal.
Not Rated
120
1
4 ft.
Polyethylene Plastic
3"
Rigid
PVC Plastic
10"
10"
6"
__
Steel
30
30-125
000000
000000
G
2 gal.
Not Rated
120
2
4 ft.
Polyethylene Plastic
3"
Rigid
PVC Plastic
10"
10"
6"
__
Steel
30
30-125
000000
000000
G
2 gal.
Not Rated
120
4
4 ft.
Polyethylene Plastic
3"
Rigid
PVC Plastic
10"
10"
6"
__
Steel
30
30-125
000000
000000
| | | | |
| --- | --- | --- | --- |
| On/Off Air Switch for Styles D and E | 0000000 | Each | 000000 |
For
Style
Component
Each
A
5-ft. Polyurethane Rubber Outlet Hose
00000000
000000
A, B
Liquid-Level Gauge
0000000
00000
A, B, C
6" 45°-Angle Brass Nozzle
00000000
00000
A, B, C
6" 90°-Angle Brass Nozzle
00000000
00000
A, B, C
6" Straight Brass Nozzle
00000000
00000
B, C
5-ft. Brass Outlet Hose
00000000
000000
C
Sight Gauge
0000000
00000
D
4-ft. Nylon Plastic Outlet Hose with 45°-Angle Brass Nozzle
0000000
00000
D
Magnetic Nozzle Mount
0000000
00000
D, E
Coolant Inlet Hose
0000000
00000
D, E
Coolant Inlet Hose Ball Check
0000000
00000
D, E
Valve Block
0000000
00000
D, E
Valve Stem
0000000
00000
E
1 1/4" Brass Dispensing Tip
0000000
00000
E
4-ft. Nylon Plastic Outlet Hose with Any-Which-Way Plastic Nozzle
0000000
000000
F
12" Any-Which-Way Plastic Nozzle with Base
0000000
00000
F
4-ft. Polyethylene Plastic Outlet Hose with Stainless Steel Braid
000000
00000
F
5-ft. Polyethylene Plastic Outlet Hose with Stainless Steel Braid
0000000
00000
F, G
1/16" Brass Tube Fitting for Steel
0000000
00000
F, G
Air-Control Assembly
0000000
00000
F, G
Coolant Inlet Hose
0000000
00000
F, G
Liquid-Control Assembly
0000000
00000
G
3" 45°-Angle Rigid Stainless Steel Nozzle
0000000
00000
G
3" Straight Rigid Stainless Steel Nozzle
000000
00000
G
4-ft. Polyethylene Plastic Outlet Hose
000000
00000
G
5-ft. Polyethylene Plastic Outlet Hose
0000000
00000
G
Magnetic Nozzle Mount
000000
00000