Mobile
Hand-Pump

Sprayers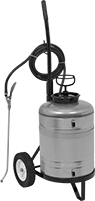 Pump the handle to pressurize the tank, then squeeze the trigger on the wand to spray degreasers, insecticides, disinfectants, cleaning solutions, and herbicides.
Replacement trigger and wand kits do not include nozzles.
Note: The material of the parts can affect a sprayer's compatibility with a chemical or solution. Make sure the tank, seal, wand, and nozzle are suitable for your application.