Plastic
Spill-Control

Pallets

A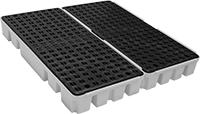 B

C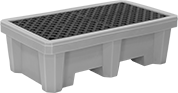 D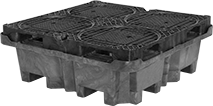 E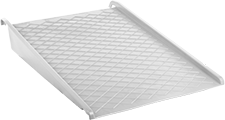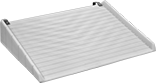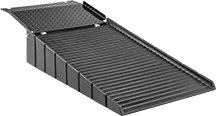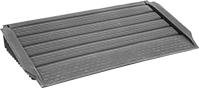 These pallets have removable grating for easy cleaning.
Style B have optional connectors (sold separately) that allow you to connect multiple pallets. Use two connectors per side.
Style C have a double-layer polyethylene bladder that deploys to capture overspills of up to 65 gallons. This one-time-use bladder is 66" Lg. × 58" Wd. when fully deployed.
Style E has recessed rings for secure drum storage. The grating can be removed with a forklift.
Style
For

No.

of


55-Gal.


Drums

Cap.,




gal.

Weight


Cap.,




lbs.

Lg.

Wd.

Ht.

Color

No.

of Entry
Points for
Forklifts

Wd.

Ht.

Space
Saving
Features
Each
Weight


Cap.,




lbs.

Each

Polyethylene

Plastic—

Meets EPA 40 CFR

264.175

A
2
30
5,000
51

1/2

"
26

1/4

"
6

1/2

"
Yellow
__
__
__
Stackable
00000000
0000000
__
00000000
0000000
A
4
60
10,000
52

1/2

"
51

1/2

"
6

1/2

"
Yellow
__
__
__
Stackable
00000000
000000
__
00000000
000000
A
6
85
10,000
78

1/4

"
51

1/2

"
6

1/2

"
Yellow
__
__
__
Stackable
00000000
000000
__
00000000
000000
A
8
120
10,000
103"
51

1/2

"
6

1/2

"
Yellow
__
__
__
Stackable
00000000
000000
__
00000000
000000
B
6
60
9,000
72"
49"
6

1/2

"
Yellow
2
6

31/32

"
1"
Stackable
00000000
000000
1,000
00000000
000000
B
8
75
12,000
96"
49"
6

1/2

"
Yellow
2
6

31/32

"
1"
Stackable
00000000
000000
1,000
00000000
000000
C
1
75
1,500
30

1/2

"
26"
5

3/4

"
Yellow
__
__
__
__
0000000
000000
600
0000000
000000
C
2
85
3,000
52"
30

1/2

"
5

3/4

"
Yellow
__
__
__
__
0000000
000000
600
0000000
000000
C
4
110
6,000
56

3/4

"
52"
5

3/4

"
Yellow
__
__
__
__
0000000
000000
600
0000000
000000
D
1
60
800
40"
40"
12"
Yellow
2
7"
4"
Nestable, Stackable
00000000
000000
700
00000000
000000
D
2
65
3,000
53"
29"
16

1/2

"
Orange
2
10

3/4

"
4"
Nestable, Stackable
00000000
000000
__
000000
00
D
4
65
3,000
98

1/4

"
25

1/4

"
11

1/2

"
Yellow
2
9"
3"
Nestable, Stackable
00000000
000000
__
000000
00
D
4
65
6,000
53"
53"
11

3/4

"
Orange
4
14

3/4

"
4"
Nestable, Stackable
00000000
000000
700
00000000
000000
E
4
85
6,500
51"
51"
17

1/2

"
Red
4
7

1/2

"
4"
Nestable, Stackable
00000000
000000
__
000000
00

Polyethylene Plastic

A
1
15
2,000
26

1/4

"
26"
6

1/2

"
Yellow
__
__
__
Stackable
00000000
000000
__
000000
00
B
2
22
3,000
49"
24"
6

1/2

"
Yellow
2
6

31/32

"
1"
Stackable
00000000
000000
1,000
00000000
000000
B
4
40
6,000
49"
48"
6

1/2

"
Yellow
4
6

31/32

"
1"
Stackable
00000000
000000
1,000
00000000
000000