Safety Cans with
Built-In

Spout
Also known as Type II safety cans, these have two openings—one for filling, one for pouring. Safety cans are a safer choice than fuel cans for storing flammable liquids. They have a spring-loaded, self-closing lid; pressure-relief cap; flame arrester; and a vacuum-release valve for controlled pouring.
Color-coding typically indicates usage: red for gasoline, yellow for diesel, blue for kerosene, and green for other liquids.
Style B have a steel roll bar that protects the spout, handle, and trigger during transport.
Style C have a rotating spout that flips down for pouring and up for storage.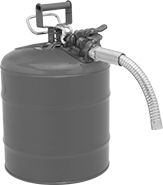 A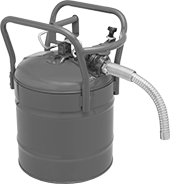 B
Style

Cap.,




gal.

Dia.

Ht.

Fill
Opening


Dia.

Lg.

OD
Flexibility
Specifications
Met
UN
Shipping
Standard
Choose
a
Color
Each
Each
A
1
9

1/2

"
10

1/2

"
1

1/2

"
9"

5/8

"
Flexible
C-UL Listed, UL Listed
__
0000000
0000000
0000000
000000
A
2

1/2

11

1/2

"
12"
1

1/2

"
9"

5/8

"
Flexible
C-UL Listed, UL Listed
__
0000000
000000
0000000
00000
A
5
11

1/2

"
17

3/4

"
1

1/2

"
9"
1"
Flexible
C-UL Listed, UL Listed
__
0000000
000000
0000000
00000
B
2

1/2

11

3/4

"
12"
1

1/2

"
9"

5/8

"
Flexible
FM Approved

UN1A1/X1.2/200
Red
0000000
000000
0000000
00000
B
5
11

3/4

"
17

1/2

"
1

1/2

"
9"
1"
Flexible
FM Approved

UN1A1/X1.2/200
Red
0000000
000000
0000000
00000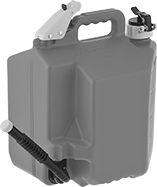 C

Replacement Cap
Style

Cap.,




gal.

Lg.

Wd.

Ht.

Fill
Opening


Dia.

Lg.

OD
Flexibility
Graduation
Marks
Specifications
Met
Choose
a
Color
Each

Pkg.




Qty.

Pkg.

C
2
13

1/2

"
9"
12"
1

1/4

"
9"

3/4

"
Flexible
1 gal. / 4 L
FM Approved, NFPA Code 30
Red
0000000
000000
3
0000000
00000
C
5
13"
10

1/4

"
15

1/2

"
1

1/4

"
9"

3/4

"
Flexible
1 gal. / 4 L
FM Approved, NFPA Code 30
0000000
00000
3
0000000
0000