Through-Panel

Terminal Blocks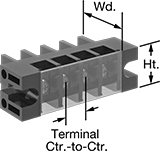 Screw Terminals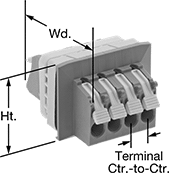 Make electrical connections through a panel—blocks mount in a cutout and have terminals on both sides. Rated UL 94 V-0, they meet flammability standards.
Lever-clamp terminals make installation and maintenance quick and convenient. Lower the lever to secure a wire; lift the lever to disconnect it.
For technical drawings and 3-D models, click on a part number.
No.


of
Circuits
For
Wire
Gauge
Terminal
Size
Terminal


Ctr.-to-Ctr.

Lg.

Wd.

Ht.

Lg.

Ht.

Includes
Mounting
Fasteners
Included

Dia.

No.


of
Specifications
Met
Each

Screw Terminals

600V

AC/600V

DC—

60A Per Circuit

1
10-3
M5

5/8

"
1

3/4

"
1

13/16

"
1

3/16

"

3/4

"
1"
Cover
No
0.21"
2
UL Recognized Component, C-UL Recognized Component, UL 94 V-0
0000000
000000
2
10-3
M5

5/8

"
2

3/8

"
1

13/16

"
1

3/16

"
1

3/8

"
1"
Cover
No
0.21"
2
UL Recognized Component, C-UL Recognized Component, UL 94 V-0
0000000
00000
3
10-3
M5

5/8

"
3"
1

13/16

"
1

3/16

"
2"
1"
Cover
No
0.21"
2
UL Recognized Component, C-UL Recognized Component, UL 94 V-0
0000000
00000
4
10-3
M5

5/8

"
3

11/16

"
1

13/16

"
1

3/16

"
2

5/8

"
1"
Cover
No
0.21"
2
UL Recognized Component, C-UL Recognized Component, UL 94 V-0
0000000
00000
5
10-3
M5

5/8

"
4

5/16

"
1

13/16

"
1

3/16

"
3

1/4

"
1"
Cover
No
0.21"
2
UL Recognized Component, C-UL Recognized Component, UL 94 V-0
0000000
00000
6
10-3
M5

5/8

"
4

15/16

"
1

13/16

"
1

3/16

"
3

7/8

"
1"
Cover
No
0.21"
2
UL Recognized Component, C-UL Recognized Component, UL 94 V-0
0000000
00000

600V

AC/600V

DC—

40A Per Circuit

4
16-6
__

7/16

"
2

9/16

"
2

13/16

"
1

15/16

"
2

1/16

"
1

1/4

"
Mounting Clip
__
__
__
UL Recognized Component, CSA Certified, CE Marked, UL 94 V-0
0000000
00000