Build-Your-Own

Guardrails

Guardrail with
Two-Rib
Bolt-On
Rails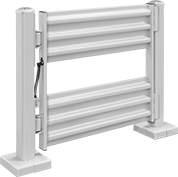 Gate with
Three-Rib
Rail,
Posts,
and Mounting Plate Covers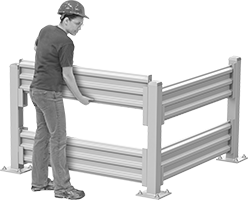 Guardrail with
Three-Rib
Slide-In
Rails
Combine rails, posts, and gates to make a custom guardrail system.
Bolt-on rails attach directly to the posts. Slide-in rails come with brackets that attach to the posts. Rails slide in and out of brackets for easy removal.
Gates can be mounted to swing open to the left or right.
The assembled length refers to the total installed length of the rail with posts on each side.
For technical drawings and 3-D models, click on a part number.

These are the same guardrails you see along roadways.
Drive posts into the ground and then attach rails and end pieces to create a barrier.
Anchor bracket end pieces secure rails to concrete. They're often used to mount rails on bridges and buildings.
For technical drawings and 3-D models, click on a part number.
Truckbed Work Platforms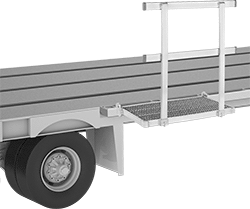 Create additional workspace to safely and efficiently load, unload, and secure items on a flatbed trailer. Quick to install and remove, these platforms hook into the prefabricated slots on the sides of most flatbeds. Made of aluminum, the platform and rails are lightweight and corrosion resistant. Platform is serrated for maximum slip resistance. Rails are removable for convenient storage.
Note: Work platforms meet OSHA dimensional standards. Users are responsible for checking local, state, and federal codes, including OSHA, for safe installation and operating practices.