Fast-Acting

Panel-Mount

On/Off

Valves with

Yor-Lok

Fittings

Straight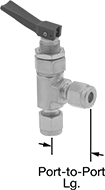 Valve

Type:

Stem

For Use

With:

Air,

Argon,

Helium,

Krypton,

Neon,

Oil,

Water,

Xenon
Seal

Material:

PTFE Plastic
Flip the toggle to quickly turn these valves on and off. All have threads and a hex nut below the handle for installation in instrument panels. For extra gripping power and a strong seal, they have Yor-Lok fittings with two sleeves that bite into tubing as you tighten the nut. All are compatible with Swagelok®, Let-Lok, and Parker A-Lok fittings.
316 stainless steel valves are more corrosion resistant than brass valves.
Flow coefficient (Cv) is the amount of water (in gallons per minute) at 60° F that will flow through a fully open valve with a difference of 1 psi between the inlet and the outlet.
For technical drawings and 3-D models, click on a part number.
For
Tube
OD
Flow
Coefficient


(Cv)

Max.


Pressure
Temperature


Range,




°F

Panel
Cutout


Dia.

End-to-End




Lg.

Each

Port-to-Port




Lg.

Each

Brass Body

Yor Lok × Yor Lok

1/8

"
0.1
300 psi @ 200° F
-20° to 200°

17/32

"
1

15/16

"
0000000
000000
__
000000
00

1/4

"
0.2
300 psi @ 200° F
-20° to 200°

17/32

"
2

1/4

"
0000000
00000
1

1/8

"
0000000
000000

316 Stainless Steel Body

Yor Lok × Yor Lok

1/8

"
0.1
300 psi @ 200° F
-20° to 200°

17/32

"
1

15/16

"
0000000
000000
__
000000
00

1/4

"
0.2
300 psi @ 200° F
-20° to 200°

17/32

"
2

1/4

"
0000000
00000
1

1/8

"
0000000
00000