Ultra-Hard

C2 Tungsten Carbide Bars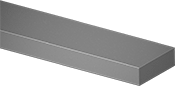 Yield

Strength:

319,

000 psi

Hardness:

Rockwell C80

(Very

Hard)

Temper

Rating:

Not Rated
These bars are also known as flat stock. Tungsten carbide, sometimes called carbide, is harder than Corrosion-Resistant Tungsten with excellent wear resistance. Use it to machine long-lasting tools, such as end mills and inserts.
For technical drawings and 3-D models, click on a part number.

Certificates with a traceable lot number are available for these products. Download certificates from ORDER HISTORY after your order ships.