Tweezer-Style

Electronic-Component

Testers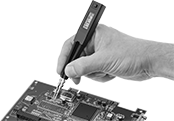 Tester

Grasp tiny components on circuit boards and other electronic systems in order to test, identify, and troubleshoot them. These testers perform a complete analysis of components by measuring inductance, capacitance, resistance, dissipation factor, quality factor, impedance, and equivalent series resistance. They automatically determine the component model and test parameters, but you can manually select the parameters and test signal levels too. An LED screen displays the component type and measurements. These testers also check if diode voltage is open or shorted, if components are in the best-performance tolerance range so you can sort them, and if there's continuity in the resistance readings or a shorted conductor. All include a calibration certificate traceable to NIST that states they've passed a test for accuracy. They run on a rechargeable battery, so you aren't tethered by a power cord.
These testers have tweezer-style pointed tips for precision control. Made of stainless steel, the tips withstand wear and high temperatures. They're also gold plated to conduct electricity and resist corrosion and tarnishing, which hurt conductivity.
Testers with Bluetooth connectivity work with iOS and Android devices to download, store, and share data.
Measures
Capacitance
Range
Inductance
Range
Resistance
Range
Width
Height
Depth
Style
Length
Material
Batteries
Included
Each
Capacitance, Dissipation Factor, Equivalent Series Resistance, Impedance, Inductance, Quality Factor, Resistance
0.5 pF-4,999 µF
1 µH-999 mH
0.1 ohms-9.9 megohms
0.8"
6"
0.6"
Standard
1

1/4

"
Gold-Plated Stainless Steel
Yes
0000000
0000000
Testers with Bluetooth Connectivity
Measures
Capacitance
Range
Inductance
Range
Resistance
Range
Width
Height
Depth
Style
Length
Material
Batteries
Included
Each
Capacitance, Dissipation Factor, Equivalent Series Resistance, Impedance, Inductance, Quality Factor, Resistance
0.5 pF-4,999 µF
1 µH-999 mH
0.1 ohms-9.9 megohms
0.8"
6"
0.6"
Standard
1

1/4

"
Gold-Plated Stainless Steel
Yes
0000000
0000000

Replacement Standard Tips