Anti-Slip

Adapters for

Non-Contact

Vacuum Lifters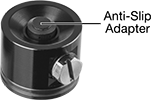 Lifter and Adapter Sold Separately

Stick these adapters onto Non-Contact Vacuum Lifters to create a soft area for your workpiece to touch while it's in motion. These rubber discs gently press against your object, adding enough friction to keep it from slipping and dropping. Choose an adapter that matches the manufacturer and model number of your vacuum lifter.
Warning: Never use to lift people or items over people.
For technical drawings and 3-D models, click on a part number.
OD,


mm

ID,


mm

Thickness,


mm
Mount Type
For Use With

Min.

Max.

For Manufacturer


(Series/Model No.)

Each

For

Oily,

Smooth,

and Textured Surfaces

5
__
0.5
Adhesive Back
Electronics, Plastic
32°
140°
Convum (COP-20)
0000000
000000
16
5
0.5
Adhesive Back
Electronics, Plastic
32°
140°
Convum (COP-40)
0000000
00000
18
__
1
Adhesive Back
Electronics, Plastic
32°
140°
Convum (COP-60)
0000000
00000
35
18
1
Adhesive Back
Electronics, Plastic
32°
140°
Convum (COP-80)
0000000
00000
55
35
1
Adhesive Back
Electronics, Plastic
32°
140°
Convum (COP-100)
0000000
00000