How to

Identify and Measure Fittings
Pipe size is an industry designation, not the actual size. View information about how to measure threaded and unthreaded pipe and pipe fittings.
Yor-Lok

Fittings for Stainless Steel Tubing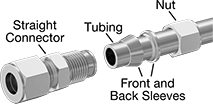 A nut with two sleeves (ferrules) gives these fittings extra gripping power. The sleeves bite into tubing as you tighten the nut, creating a strong seal. Also known as instrumentation fittings, they are made to tight tolerances for use in high-precision applications. They are compatible with Swagelok®, Let-Lok, and A-Lok fittings.
316 stainless steel fittings have excellent corrosion resistance.
For technical drawings and 3-D models, click on a part number.
Inline Tee Adapters, Tube × Female Threaded Pipe

For Use

With:

Air,

Cutting

Oil,

Fuel

Oil,

Gasoline,

Hydraulic

Fluid,

Mineral

Oil,

Natural

Gas,

Steam,

Water

Tubing:

Use with welded or seamless

304/304L

or

316/316L

stainless steel that meets ASTM

A213,

ASTM

A249,

or

ASTM A269
Inline tees are also known as branch tees.
OD
Wall

Thick.

Pipe
Size

Material

Max.

Pressure

Temp.

Range,

°F

Each

NPT Threads

6mm
1 to 1.5 mm

1/8

316 Stainless Steel
4,400 psi @ 72° F
-420° to 1200°
00000000
000000
8mm
1 to 1.5 mm

1/4

316 Stainless Steel
4,400 psi @ 72° F
-420° to 1200°
00000000
00000
10mm
1 to 1.5 mm

1/4

316 Stainless Steel
3,400 psi @ 72° F
-420° to 1200°
00000000
00000
12mm
1 to 2 mm

1/4

316 Stainless Steel
2,900 psi @ 72° F
-420° to 1200°
00000000
00000

For Use

With:

Air,

Cutting

Oil,

Fuel

Oil,

Gasoline,

Hydraulic

Fluid,

Mineral

Oil,

Natural

Gas,

Steam,

Water

Tubing:

Use with welded or seamless

304/304L

or

316/316L

stainless steel that meets ASTM

A213,

ASTM

A249,

or

ASTM A269
OD
Wall


Thick.

Material

Max.

Pressure

Temp.

Range,

°F

Each
3mm
0.5mm
316 Stainless Steel
4,000 psi @ 72° F
-420° to 1200°
00000000
000000
4mm
1mm
316 Stainless Steel
3,500 psi @ 72° F
-420° to 1200°
00000000
00000
6mm
1mm
316 Stainless Steel
4,000 psi @ 72° F
-420° to 1200°
00000000
00000
8mm
1mm
316 Stainless Steel
3,000 psi @ 72° F
-420° to 1200°
00000000
00000
10mm
0.5mm
316 Stainless Steel
2,500 psi @ 72° F
-420° to 1200°
00000000
00000
12mm
0.5mm
316 Stainless Steel
2,000 psi @ 72° F
-420° to 1200°
00000000
00000
14mm
1.5mm
316 Stainless Steel
2,000 psi @ 72° F
-420° to 1200°
00000000
00000

OD
Wall


Thick.

Nut Material

Max.

Pressure

Temp.

Range,

°F

Each
3mm
0.5mm
316 Stainless Steel
4,000 psi @ 72° F
-420° to 1200°
00000000
00000
4mm
1mm
316 Stainless Steel
3,500 psi @ 72° F
-420° to 1200°
00000000
0000
6mm
1mm
316 Stainless Steel
4,000 psi @ 72° F
-420° to 1200°
00000000
0000
8mm
1mm
316 Stainless Steel
3,000 psi @ 72° F
-420° to 1200°
00000000
0000
10mm
0.5mm
316 Stainless Steel
2,500 psi @ 72° F
-420° to 1200°
00000000
0000
12mm
0.5mm
316 Stainless Steel
2,000 psi @ 72° F
-420° to 1200°
00000000
0000
14mm
1.5mm
316 Stainless Steel
2,000 psi @ 72° F
-420° to 1200°
00000000
00000

OD
Wall


Thick.

Sleeve Material

Max.

Pressure

Temp.

Range,

°F

Each
3mm
0.5mm
316 Stainless Steel
4,000 psi @ 72° F
-420° to 1200°
00000000
00000
4mm
1mm
316 Stainless Steel
3,500 psi @ 72° F
-420° to 1200°
00000000
0000
6mm
1mm
316 Stainless Steel
4,000 psi @ 72° F
-420° to 1200°
00000000
0000
8mm
1mm
316 Stainless Steel
3,000 psi @ 72° F
-420° to 1200°
00000000
0000
10mm
0.5mm
316 Stainless Steel
2,500 psi @ 72° F
-420° to 1200°
00000000
0000
12mm
0.5mm
316 Stainless Steel
2,000 psi @ 72° F
-420° to 1200°
00000000
0000
14mm
1.5mm
316 Stainless Steel
2,000 psi @ 72° F
-420° to 1200°
00000000
00000