Compact Strip Machine Lights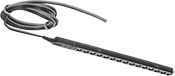 Magnetic Mount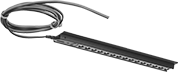 Screw Mount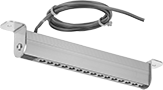 Screw Mount with Adjustable Bracket

Replacement Magnetic Tape

Replacement Adjustable Bracket
With a slimmer profile than other strip machine lights, these lights fit in tight spots on workspaces and inside machinery because they don't have a circuit board. Put them on the running boards of trucks and other vehicles to improve visibility without limiting ground clearance. They're good for indoor and outdoor applications requiring resistance to water, impact, and corrosion because their built-in LEDs are sealed in plastic to keep out fluid, dust, dirt, and debris. Rated IP67, they're dust tight even with continuous airflow and they withstand submersion in one meter of water for 30 minutes. Their LEDs last longer, are more efficient, and generate less heat than other light technologies. They have a daylight appearance, which highlights white and blue tones and is good for inspecting.
Magnetic-mount lights are useful for quick, temporary installations. Apply the included magnetic tape wherever needed, and then stick the light to the tape.
Screw-mount lights have a mounting strip—tap mounting holes anywhere along the strip's channel. Screw-mount lights with an adjustable bracket rotate 180° to give you more control over where their light shines. To change the direction they're pointing in, you'll need to loosen the fasteners at each end.
Replacement
Adjustable
Brackets

Lg.

Wd.

Brightness,


lumens
Light
Appearance
Light
Color
Wattage
Housing
Material
Environmental
Rating
Mounting
Fasteners
Included

No.


of

Dia.,


mm
Choose
a
Voltage

Each
Each
Each

Magnetic Mount

9

3/16

"

11/16

"
300
Daylight (6,500K)
White
3W
Plastic
IP67

Yes
__
__
0000000
000000
000000
00
0000000
00000
16

3/16

"

11/16

"
600
Daylight (6,500K)
White
6W
Plastic
IP67

Yes
__
__
0000000
00000
000000
00
0000000
00000

Screw Mount

9

3/16

"
1

1/4

"
300
Daylight (6,500K)
White
3W
Plastic
IP67

No
__
__
0000000
00000
000000
00
000000
00
16

3/16

"
1

1/4

"
600
Daylight (6,500K)
White
6W
Plastic
IP67

No
__
__
0000000
00000
000000
00
000000
00

Screw Mount with Adjustable Bracket

10

3/8

"

7/8

"
800
Daylight (6,500K)
White
9W
Aluminum
IP67

No
2
5
12V DC
00000000
00000
0000000
00000
000000
00
10

3/8

"

7/8

"
800
Daylight (6,500K)
White
7.2W
Aluminum
IP67

No
2
5
24V DC
00000000
00000
0000000
0000
000000
00
17

3/8

"

7/8

"
1,600
Daylight (6,500K)
White
18W
Aluminum
IP67

No
2
5
12V DC
00000000
00000
0000000
0000
000000
00
17

3/8

"

7/8

"
1,600
Daylight (6,500K)
White
14.4W
Aluminum
IP67

No
2
5
24V DC
00000000
00000
0000000
0000
000000
00