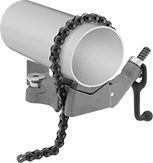 Chain Style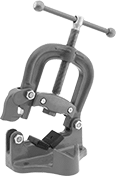 Yoke Style
Hold pipe, tubing, and conduit for cutting and threading.
Chain-style vises have jaws on the base. Crank the handle to tighten the chain, securing the object against the jaws.
Yoke-style vises have top and bottom jaws—turn the handle to clamp the object between them. They have a hinged side opening with a locking latch. You can reverse the yoke to open on the left or right. Yoke style is not recommended for plastic pipe.
For Pipe
Size
For

Dia.

Material
Texture
Body
Material
Mounting
Fasteners Included

No.


of

Dia.

Each

Chain Style

1/8

-2

1/2

13/32

"-2

7/8

"
Steel
Serrated
Iron
No
3

13/32

"
0000000
0000000

1/8

-4

13/32

"-4

1/2

"
Steel
Serrated
Iron
No
3

9/16

"
0000000
000000

1/8

-5

13/32

"-5.563"
Steel
Serrated
Iron
No
3

13/32

"
0000000
000000

1/4

-6

35/64

"-6

5/8

"
Steel
Serrated
Iron
No
3

9/16

"
0000000
000000

1/2

-8

27/32

"-8

5/8

"
Steel
Serrated
Iron
No
3

9/16

"
000000
000000
1 to 12
1

5/16

"-12

3/4

"
Steel
Serrated
Iron
No
3

11/16

"
0000000
00000000

Yoke Style

1/8

-2

13/32

"-2

3/8

"
Steel
Serrated
Iron
No
3

13/32

"
000000
000000

1/8

-2

1/2

13/32

"-2

7/8

"
Steel
Serrated
Iron
No
3

17/32

"
000000
000000

1/8

-3

1/2

13/32

"-4"
Steel
Serrated
Iron
No
3

17/32

"
000000
000000

1/8

-4

1/2

13/32

"-5"
Steel
Serrated
Iron
No
3

11/16

"
000000
000000

1/4

-6

35/64

"-6

5/8

"
Steel
Serrated
Iron
No
3

21/32

"
000000
00000000
1-8
1

5/16

"-8

5/8

"
Steel
Serrated
Iron
No
4

25/32

"
000000
00000000
1

1/2

-12
1

29/32

"-12

3/4

"
Steel
Serrated
Iron
No
5

25/32

"
000000
00000000