Bench Vises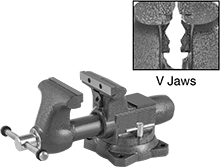 Standard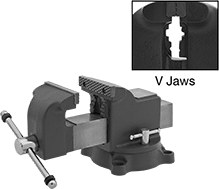 Economy
Use these vises for general purpose workholding. In addition to flat jaws, they have V jaws (also known as pipe jaws) that securely grip pipe and other round objects. The swivel base rotates 360° and can be locked in place with the two base locks. Use the anvil for bending and shaping material with a hammer.
Standard vises have moving parts that are enclosed to keep contaminants out and lubrication in for smooth operation. The jaws pull in a straight line to provide even pressure under heavy clamping.
Economy vises are suitable for light maintenance work.
Wd.

Max.


Opening
Material
Texture

V Jaw


For


Dia.

Throat


Dp.

Lg.

Wd.

Ht.

Wt.,




lbs.

Mounting
Fasteners
Included

No.


of

Dia.

Each
Each
Each

Standard with Flat and V Jaws

4

1/2

"
3

1/2

"
Steel
Serrated

1/4

"-3

1/2

"
3

1/2

"
14

1/2

"
6"
8"
38.3
No
4

1/2

"
0000000
0000000
0000000
000000
0000000
000000
5

1/2

"
5"
Steel
Serrated

3/8

"-3

1/2

"
3

5/8

"
15

1/2

"
7

13/16

"
8

5/8

"
46.8
No
4

5/8

"
0000000
000000
0000000
000000
0000000
00000
6

1/2

"
6"
Steel
Serrated

3/8

"-4"
4

1/4

"
17

13/16

"
7

13/16

"
9

5/8

"
64.3
No
4

5/8

"
0000000
000000
0000000
000000
0000000
00000
8"
6

3/4

"
Steel
Serrated

3/8

"-4

1/2

"
5"
20"
8

13/16

"
11"
95
No
4

5/8

"
0000000
00000000
0000000
00000
0000000
000000

Economy with Flat and V Jaws

4"
4"
Steel
Serrated

5/8

"-2"
2

3/4

"
15"
8"
7"
20
No
4

1/2

"
0000000
000000
0000000
00000
000000
00
5"
5"
Steel
Serrated

5/8

"-2

3/8

"
3"
16"
9"
9"
28
No
4

1/2

"
0000000
000000
0000000
00000
000000
00
6"
6"
Steel
Serrated

5/8

"-2

1/2

"
3

1/2

"
18

1/2

"
8

1/4

"
9

1/2

"
42
No
4

1/2

"
000000
000000
0000000
00000
000000
00
8"
8"
Steel
Serrated

3/4

"-3"
4"
28"
28"
14"
65
No
4

1/2

"
000000
000000
0000000
00000
000000
00