Compact
Milling-Machine

Vises
The small size allows multiple vises to be mounted on a single machine table. Frequently used in 4- and 5-axis milling machines, these vises can hold a workpiece in multiple ways.
Use the smooth, flat face of the jaws to grip like a conventional machine vise. Raise the workpiece by resting it on the jaws' step to allow more access for cutting tools; serrated teeth along the edge ensure a firm grip. Use the 45° dovetail to hold a matching dovetail machined into your part.
Vises are self-centering—the jaws move inward at the same time to consistently position your workpiece in the center of the vise.
Replacement vise jaws replace the ones that come installed on the vise.
Optional machinable jaws can be machined to fit the contours and curves of your workpiece.
For technical drawings and 3-D models, click on a part number.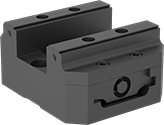 Wd.

Ht.

Max.


Opening
Step


Ht.

Material
Texture
Centering
Accuracy

Ht.

Angle
Overall


Ht.

Lg.

Material
Mounting
Fasteners
Included
Each
2

15/16

"

13/16

"
3"
0.1"
Steel
Smooth and Serrated
0.0005"
0.1"
45°
2

7/32

"
3

15/16

"
Steel
Yes
000000
000000000
4

15/16

"
1

9/32

"
3

1/16

"
0.1"
Steel
Smooth and Serrated
0.0005"
0.1"
45°
2

29/32

"
6"
Steel
No
000000
00000000