Magnetic Workholding Chucks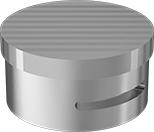 To grind, drill, lightly mill, and machine parts that rotate around an axis, these chucks hold parts in place magnetically so you can access their inner and outer diameters. Use them when clamps will not fit or could damage the part's finish. To switch the magnetic grip on and off, pull their handle. They have mounting holes for fitting in your machine, or your machine's chuck can hold them.
Chucks with fine magnetic pole spacing hold parts that are smaller or thinner than 1/4".
Chucks with standard magnetic pole spacing grip large and thick parts. They're good for most applications.
For technical drawings and 3-D models, click on a part number.
Diameter
Height
Maximum
Holding


Power,

psi
Magnet
Type
Parallel
Tolerance
Number
of
Thread
Size

Center-to-Center

Each

Fine Magnetic Pole Spacing

4"
2"
115
Rare Earth
0.002"
3
M6

3

11/32

"
00000000
0000000
5

1/8

"
2"
115
Rare Earth
0.002"
3
M6

4

13/32

"
00000000
000000
6

1/4

"
3"
30
Permanent
0.002"
4

1/4

"-20

4"
00000000
00000000
6

3/8

"
2"
115
Rare Earth
0.002"
4
M8

5

1/2

"
00000000
00000000
7

3/4

"
3"
30
Permanent
0.002"
4

3/8

"-16

5"
00000000
00000000
7

7/8

"
2"
115
Rare Earth
0.002"
4
M8

7

3/32

"
00000000
00000000
9

7/8

"
2

1/2

"
115
Rare Earth
0.002"
4
M10

8

13/16

"
00000000
00000000
10

1/8

"
3"
30
Permanent
0.002"
4

3/8

"-16

5"
00000000
00000000
11

7/8

"
2

1/2

"
115
Rare Earth
0.002"
4
M10

10

1/4

"
00000000
00000000
12

1/4

"
3"
30
Permanent
0.002"
4

3/8

"-16

5"
00000000
00000000
15

3/4

"
2

1/2

"
115
Rare Earth
0.002"
6
M10

13

25/32

"
00000000
00000000

Standard Magnetic Pole Spacing

4"
2"
115
Rare Earth
0.002"
3
M6

3

11/32

"
00000000
000000
5

1/8

"
2"
115
Rare Earth
0.002"
3
M6

4

13/32

"
00000000
000000
5

1/2

"
3"
30
Permanent
0.002"
4

1/4

"-20

4"
00000000
000000
6

1/4

"
3"
30
Permanent
0.002"
4

1/4

"-20

4"
00000000
00000000
6

3/8

"
2"
115
Rare Earth
0.002"
4
M8

5

1/2

"
00000000
00000000
7

3/4

"
3"
30
Permanent
0.002"
4

3/8

"-16

5"
00000000
00000000
7

7/8

"
2"
115
Rare Earth
0.002"
4
M8

7

3/32

"
00000000
00000000
9

1/4

"
3"
30
Permanent
0.002"
4

3/8

"-16

5"
00000000
00000000
9

7/8

"
2

1/2

"
115
Rare Earth
0.002"
4
M10

8

13/16

"
00000000
00000000
10

1/8

"
3"
30
Permanent
0.002"
4

3/8

"-16

5"
00000000
00000000
11

7/8

"
2

1/2

"
115
Rare Earth
0.002"
4
M10

10

1/4

"
00000000
00000000
12

1/4

"
3"
30
Permanent
0.002"
4

3/8

"-16

5"
00000000
00000000
15

1/4

"
3

1/2

"
30
Permanent
0.002"
6

5/16

"-18

7

3/8

"
00000000
00000000
15

3/4

"
2

1/2

"
115
Rare Earth
0.002"
6
M10

13

25/32

"
00000000
00000000
16

1/4

"
3"
30
Permanent
0.002"
6

3/8

"-16

9"
00000000
00000000
20

1/4

"
3

1/2

"
30
Permanent
0.002"
6

3/8

"-16

12

13/32

"
00000000
000000000