Use these vises for reliable workholding on CNC machines.
Premium vises are the industry standard for precision CNC milling and are made in the U.S.A. They're designed to prevent jaw lift, keeping the workpiece seated firmly on the vise bed as the jaws close for precise machining. You can also attach the jaws to the outside ends of the jaw plates to hold a wider workpiece.
Economy vises reliably position workpieces but don't provide the precision and tight tolerances of premium vises. They are imported.
Vise with swivel base rotates 360° in 1° increments and can be locked in place.
For technical drawings and 3-D models, click on a part number.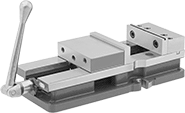 Premium

Premium vise with jaws
attached to the outside ends of
jaw plates extends the opening
Economy with Fixed Base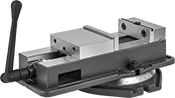 Economy with Swivel Base
Replacement
Handle
Assemblies

Wd.

Ht.

Max.


Opening
Material
Texture

Max.


Extended
Opening
Overall


Ht.

Body


Lg.

Mounting
Fasteners
Included
Each
Each
Each
Each

Premium

Fixed Base

4"
1

1/4

"
6

1/2

"
Steel
Smooth
12

7/16

"
3

1/2

"
12

1/2

"
No
0000000
0000000
0000000
000000
000000
00
0000000
000000
6"
1

3/4

"
9

1/16

"
Steel
Smooth
16

7/8

"
4

5/8

"
16

13/16

"
No
0000000
000000
0000000
00000
0000000
0000000
0000000
00000
8"
2

3/16

"
10

1/2

"
Steel
Smooth
22"
5

1/2

"
21

13/16

"
No
0000000
00000000
0000000
000000
0000000
00000000
000000
00

Economy

Fixed Base

6"
1

3/4

"
8

3/4

"
Steel
Smooth
__
4

3/4

"
19

1/2

"
No
0000000
000000
000000
00
000000
00
000000
00
6"
1

3/4

"
8

3/4

"
Steel
Smooth
__
6

1/2

"
19

1/2

"
No
0000000
000000
000000
00
000000
00
000000
00