Ultra-Hard

C2 Tungsten Carbide Rods
Yield

Strength:

Not Rated

Hardness:

Rockwell C80

(Very

Hard)

Temper

Rating:

Not Rated
Tungsten carbide, sometimes called carbide, is harder than Corrosion-Resistant Tungsten with excellent wear resistance. Use it to machine long-lasting tools, such as end mills and inserts.
Rods with a coolant hole let coolant flow into tools that need it, saving you the effort of drilling a hole yourself.
For technical drawings and 3-D models, click on a part number.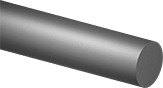 Rod
Dia.

Dia.

Tolerance

Lg.

Lg.

Tolerance
Mechanical Finish
Each
3mm
-0.007mm to 0mm
38mm
-1.5mm to 1.5mm
Precision Ground
0000000
00000
3mm
-0.007mm to 0mm
75mm
-1.5mm to 1.5mm
Precision Ground
0000000
0000
4mm
-0.007mm to 0mm
50mm
-1.5mm to 1.5mm
Precision Ground
0000000
0000
4mm
-0.007mm to 0mm
75mm
-1.5mm to 1.5mm
Precision Ground
0000000
00000
5mm
-0.007mm to 0mm
50mm
-1.5mm to 1.5mm
Precision Ground
0000000
0000
5mm
-0.007mm to 0mm
75mm
-1.5mm to 1.5mm
Precision Ground
0000000
00000
6mm
-0.007mm to 0mm
50mm
-1.5mm to 1.5mm
Precision Ground
0000000
0000
6mm
-0.007mm to 0mm
75mm
-1.5mm to 1.5mm
Precision Ground
0000000
00000
10mm
-0.007mm to 0mm
100mm
-1.5mm to 1.5mm
Precision Ground
0000000
00000
16mm
-0.007mm to 0mm
125mm
-1.5mm to 1.5mm
Precision Ground
0000000
000000
18mm
-0.007mm to 0mm
100mm
-1.5mm to 1.5mm
Precision Ground
0000000
000000
20mm
-0.007mm to 0mm
100mm
-1.5mm to 1.5mm
Precision Ground
0000000
000000
20mm
-0.007mm to 0mm
150mm
-1.5mm to 1.5mm
Precision Ground
0000000
000000
22mm
-0.007mm to 0mm
100mm
-1.5mm to 1.5mm
Precision Ground
0000000
000000
25mm
-0.007mm to 0mm
100mm
-1.5mm to 1.5mm
Precision Ground
0000000
000000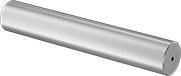 Dia.

Dia.

Tolerance
ID
ID Tolerance

Lg.

Lg.

Tolerance
Mechanical Finish
Each
6mm
-0.006mm to 0mm
1mm
-0.15mm to 0.15mm
58mm
0mm to 0.782mm
Precision Ground
00000000
000000
8mm
-0.006mm to 0mm
1.3mm
-0.15mm to 0.15mm
64mm
0mm to 0.842mm
Precision Ground
00000000
00000
12mm
-0.006mm to 0mm
2mm
-0.25mm to 0.25mm
84mm
0mm to 0.84mm
Precision Ground
00000000
00000
14mm
-0.006mm to 0mm
2mm
-0.25mm to 0.25mm
84mm
0mm to 0.84mm
Precision Ground
00000000
00000