About Hazardous Location Environmental Ratings
Vacuum Cleaners for Combustible Metal Powder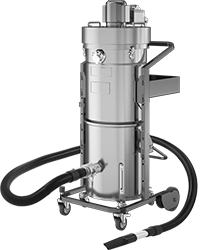 Simultaneously clean up and neutralize metal powders and other combustible dust, such as coal, plastic, and flour. These vacuums collect combustible dust in a bag, then submerge the bag in a water or mineral oil bath. This makes the dust inert. Because some metal powders emit gas when added to an immersion bath, the vacuums also have a degassing valve to vent any gas that builds up.
The vacuum and tools dissipate static, so they won't suddenly discharge electricity that could ignite your powder or nearby gases. The nozzle and crevice tool are small enough to use in compact spaces, such as 3D printer housings.
These vacuums are CSA certified for use in all NEC Class II environments—those where combustible dusts are present under normal operating conditions. In addition, they're also certified for use in Class I, Divisions 1 and 2, Group D environments, so they can be used in environments where flammable gases, vapors, and liquids with characteristics similar to propane can be found under normal operating conditions.
Cap.,




gal.

Ht.

Wd.

Dp.

hp

Current,


A
Voltage

Filter
Efficiency @


0.3

Microns

Dia.

Lg.,




ft.

Cord


Lg.,




ft.

Environmental
Rating
Includes
Each

Stainless Steel Tank

1

1/2

53"
22"
26"
1.3
9
120V AC
99.97%
1

1/2

"
10
50
NEC Class I Divisions 1, 2 Group D
NEC Class II Divisions 1, 2 Groups E, F, G
IEC Zone 1 Group IIA
IEC Zone 21 Groups IIIC, IIIB, IIIA
IP60
Crevice Tool, Curved-Tip Nozzle, Four Collection Bags, Round Brush
000000
0000000000