T-Slotted

Framing Mounting Feet and Casters
Add mounting feet and casters to T-slotted framing structures to level equipment, anchor legs to the floor, or add mobility.
For technical drawings and 3-D models, click on a part number.
Swivel Casters for Single, Double, and Quad Rails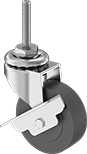 Swivel casters swivel 360° and have a brake.
To install stem-mount casters, tap the hole in the end of the rail and screw in the stem.