Cabinet Workbenches
These workbenches range in size from 25"-42" wide. All doors and drawers can be locked.
Composite wood tops are nonconductive as well as chemical and impact resistant.
Workbenches with a reversible top allow you to use the work surface either with or without the backstop and side stops.
Style B come with four hanging bin boxes to keep tools and parts close.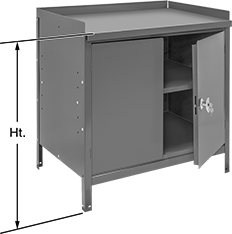 A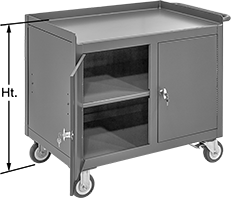 D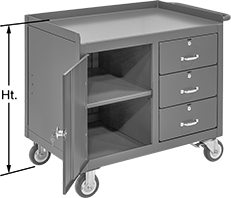 G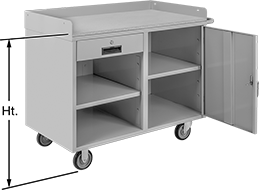 F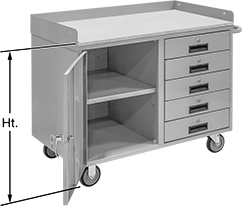 H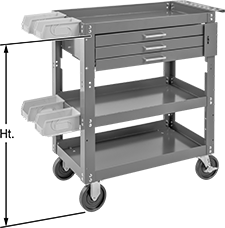 B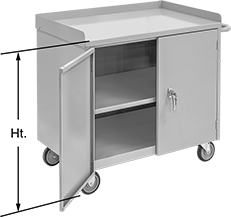 C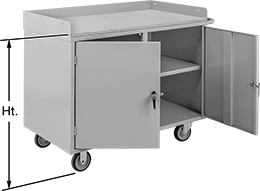 E

Gray Steel Top

Green Steel Top

Composite Wood Top
Style

Wd.

Dp.

Ht.

Backstop


Ht.

O'all




Cap.,




lbs.

Top


Cap.,




lbs.

No.


of
Type

Cap.,




lbs.

No.


of

Wd.

Dp.

Ht.

Includes
Each
Each

Gray

Powder-Coated

Steel Top with Gray

Powder-Coated

Steel Frame

A
36"
24"
34"
2"
1,000
1,000
1
Adjustable
200
__
__
__
__
Reversible Top
000000
0000000
0000000
000000

Gray

Powder-Coated

Steel Top with Gray

Powder-Coated

Steel Frame

B
25"
16"
34"
2"
500
200
2
Fixed, Reversible
200
3
23

1/2

"
11

1/2

"
1

1/2

"
Four Bin Boxes, Reversible Top
0000000
000000
000000
00

Gray

Powder-Coated

Steel Top with Gray

Powder-Coated

Steel Frame

C
36"
24"
34"
2"
1,000
1,000
1
Adjustable
200
__
__
__
__
Reversible Top
000000
000000
0000000
00000

Green-Painted

Steel Top with

Green-Painted

Steel Frame

D
36"
24"
34"
2"
1,400
1,400
1
Adjustable
600
__
__
__
__
__
0000000
00000000
000000
00
G
36"
24"
34"
2"
1,400
1,400
1
Adjustable
600
3
14"
22"
6"
__
0000000
00000000
000000
00

Brown Composite Wood Top with Gray

Powder-Coated

Steel Frame

E
42"
24"
34"
3"
800
800
2
Adjustable
150
__
__
__
__
__
0000000
000000
0000000
00000
F
42"
24"
34"
3"
800
800
2
Adjustable
150
1
18"
23"
4

1/2

"
__
0000000
000000
0000000
00000
H
42"
24"
34"
3"
800
800
1
Adjustable
150
5
18"
23"
4

1/2

"
__
0000000
00000000
0000000
00000