Downdraft Tables for Woodworking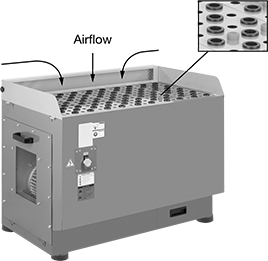 Downdraft Table with
5-Micron
Filters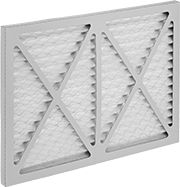 Replacement Filter
Keep large particles out of the air while cutting and routing wood products. Air blowers pull particles into the table through holes in the surface, making sure you don't breathe them. Inside the table, filters remove the particles, and exhaust vents release clean air back into your shop.
These tables should only be used with wood, plastic composites, and other non-combustible materials. Do not use them to filter materials that may create sparks, such as metallic dust. They are not designed to filter liquids, exhaust fumes, or smoke.
Rubber grommets built into the surface help keep your workpiece from slipping. The removable tray catches large chips and scraps that fall to the bottom of the table, making them easy to clean up. These tables have side shields to protect you from flying debris, which fold down if you need to make space for large workpieces. When doing precision work, use the removable plugs to block holes in the tabletop so small parts don't fall through.
65" wide tables have a blower on each side for even suction across the table surface.
Airflow,


cfm

Horsepower,


hp

Current,


A

Volume,


dBA

Ht.

Wd.

Dp.

Opening


Dia.

O'all




Cap.,




lbs.

Features
Includes
Each
Each

Powder-Coated

Steel Frame and Top

1,790

1/2

6
70
33

1/2

"
41"
23

1/2

"

7/8

"
660
Antislip Rubber Grommets, Removable Side Shields, Removable Tray
Removable Plugs, Two 5 Micron Filters
00000000
000000000
00000000
000000
1,790

1/2

6
78
33

1/2

"
65"
25

1/2

"

7/8

"
660
Antislip Rubber Grommets, Removable Side Shields, Removable Tray
Removable Plugs, Two 5 Micron Filters
00000000
00000000
00000000
00000