Extra Heavy Duty
Adjustable-Height

Steel Tables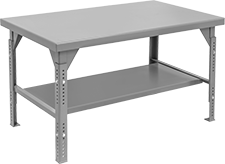 Table with Shelf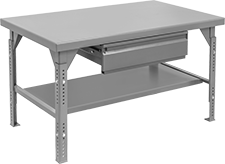 Table with Shelf and Drawer
With a thick steel frame and a capacity of at least 10,500 lbs., these welded tables are our strongest and most durable adjustable-height tables. Use them as a work surface for machines and equipment. They can be configured for either seated or standing tasks. Remove and reposition the leg bolts to adjust height in 1" increments. Regardless of table height, the lower shelf always remains a fixed distance from the tabletop.
Tables with drawer have a padlock hasp to add your own padlock.
For technical drawings and 3-D models, click on a part number.
Ht.

Wd.

Dp.

Top
Shelf
Drawer
Overall
Type

Dp.

Material
Color
Gauge

Ctr.-to-Ctr.

Type
Assembled
or
Unassembled
Each

Tables with Shelf

28"-37"
36"
30"
10,000
500
__
10,500
Fixed
16"
Powder-Coated Steel
Gray
7
1"
Bolt
Assembled
0000000
0000000
28"-37"
48"
30"
10,000
500
__
10,500
Fixed
16"
Powder-Coated Steel
Gray
7
1"
Bolt
Assembled
0000000
000000
28"-37"
60"
36"
10,000
500
__
10,500
Fixed
22"
Powder-Coated Steel
Gray
7
1"
Bolt
Assembled
0000000
00000000
28"-37"
72"
36"
10,000
500
__
10,500
Fixed
22"
Powder-Coated Steel
Gray
7
1"
Bolt
Assembled
0000000
00000000
28"-37"
84"
42"
10,000
500
__
10,500
Fixed
28"
Powder-Coated Steel
Gray
7
1"
Bolt
Assembled
0000000
00000000

Tables with Shelf and Drawer

28"-37"
36"
30"
10,000
500
250
10,750
Fixed
16"
Powder-Coated Steel
Gray
7
1"
Bolt
Assembled
0000000
00000000
28"-37"
48"
30"
10,000
500
250
10,750
Fixed
16"
Powder-Coated Steel
Gray
7
1"
Bolt
Assembled
0000000
00000000
28"-37"
60"
36"
10,000
500
250
10,750
Fixed
22"
Powder-Coated Steel
Gray
7
1"
Bolt
Assembled
0000000
00000000
28"-37"
72"
36"
10,000
500
250
10,750
Fixed
22"
Powder-Coated Steel
Gray
7
1"
Bolt
Assembled
0000000
00000000
28"-37"
84"
42"
10,000
500
250
10,750
Fixed
28"
Powder-Coated Steel
Gray
7
1"
Bolt
Assembled
0000000
00000000