Extra Heavy Duty Steel Tables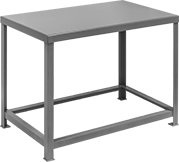 Table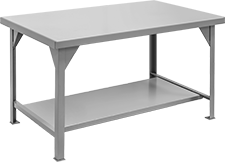 Table with Shelf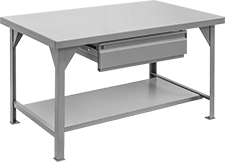 Table with Shelf and Drawer
With a thick steel frame and welded construction, these tables have a capacity of at least 10,000 lbs. The durable steel top won't warp or splinter. Use these tables as a work surface for machines and equipment.
30" high tables are standard table height. 34" and 36" high tables are the same height as most workbenches, making them a comfortable height for most standing tasks.
Tables with drawer have a padlock hasp to add your own padlock.
For technical drawings and 3-D models, click on a part number.
Ht.

Wd.

Dp.

Top
Shelf
Drawer
Overall
Material
Color
Gauge
Mounting
Fasteners
Included

No.


of

Dia.

Assembled
or
Unassembled
Each

Tables

30"
30"
16"
10,000
__
__
10,000
Powder-Coated Steel
Gray
7
No
4

5/8

"
Assembled
0000000
0000000
30"
30"
22"
10,000
__
__
10,000
Powder-Coated Steel
Gray
7
No
4

5/8

"
Assembled
0000000
000000
30"
30"
28"
10,000
__
__
10,000
Powder-Coated Steel
Gray
7
No
4

5/8

"
Assembled
0000000
000000
30"
36"
30"
10,000
__
__
10,000
Powder-Coated Steel
Gray
7
No
4

5/8

"
Assembled
0000000
000000
30"
48"
30"
10,000
__
__
10,000
Powder-Coated Steel
Gray
7
No
4

5/8

"
Assembled
0000000
000000
36"
30"
16"
10,000
__
__
10,000
Powder-Coated Steel
Gray
7
No
4

5/8

"
Assembled
0000000
000000
36"
30"
22"
10,000
__
__
10,000
Powder-Coated Steel
Gray
7
No
4

5/8

"
Assembled
0000000
000000
36"
30"
28"
10,000
__
__
10,000
Powder-Coated Steel
Gray
7
No
4

5/8

"
Assembled
0000000
000000
36"
36"
30"
10,000
__
__
10,000
Powder-Coated Steel
Gray
7
No
4

5/8

"
Assembled
0000000
000000
36"
48"
30"
10,000
__
__
10,000
Powder-Coated Steel
Gray
7
No
4

5/8

"
Assembled
0000000
000000

Tables with Shelf

34"
36"
30"
10,000
500
__
10,500
Powder-Coated Steel
Gray
7
No
4

5/8

"
Assembled
00000000
000000
34"
48"
30"
10,000
500
__
10,500
Powder-Coated Steel
Gray
7
No
4

5/8

"
Assembled
00000000
00000000
34"
60"
36"
10,000
500
__
10,500
Powder-Coated Steel
Gray
7
No
4

5/8

"
Assembled
00000000
00000000
34"
72"
36"
10,000
500
__
10,500
Powder-Coated Steel
Gray
7
No
4

5/8

"
Assembled
00000000
00000000
34"
84"
42"
10,000
500
__
10,500
Powder-Coated Steel
Gray
7
No
4

5/8

"
Assembled
00000000
00000000

Tables with Shelf and Drawer

34"
36"
30"
10,000
500
250
10,750
Powder-Coated Steel
Gray
7
No
4

5/8

"
Assembled
00000000
00000000
34"
48"
30"
10,000
500
250
10,750
Powder-Coated Steel
Gray
7
No
4

5/8

"
Assembled
00000000
00000000
34"
60"
36"
10,000
500
250
10,750
Powder-Coated Steel
Gray
7
No
4

5/8

"
Assembled
00000000
00000000
34"
72"
36"
10,000
500
250
10,750
Powder-Coated Steel
Gray
7
No
4

5/8

"
Assembled
00000000
00000000
34"
84"
42"
10,000
500
250
10,750
Powder-Coated Steel
Gray
7
No
4

5/8

"
Assembled
00000000
00000000